LONDON, England (CNN) -- Two French students who were found stabbed to death in a burned-out London apartment were the victims of a "frenzied, brutal, horrific attack," police said Thursday, as they appealed for information about the case.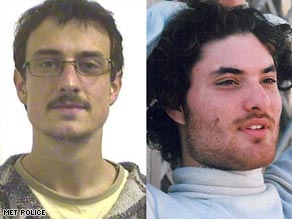 Gabriel Ferez (left) and Laurent Bonomo were graduate biochemistry students at London's Imperial College.
Laurent Bonomo and Gabriel Ferez, both 23, were bound and stabbed multiple times in the head, neck, torso, and back, said Mick Duthie, a detective with London's Metropolitan Police.
Britain's Press Association reported that the students had been tied up and tortured, suffering up to 250 injuries -- facts the police could not confirm.
"The extent of the injuries are horrific," Duthie told a news conference. "Everyone working on this case, including myself, have been deeply shocked by what we've seen. I have never seen injuries like this throughout my career."
Firefighters found the students' bodies Sunday night after responding to a fire at Bonomo's rented room on a quiet cul-de-sac in south London, police said. They initially believed the men died in the fire, but a post-mortem exam showed they died of the stab wounds.

Watch CNN report on murders »
The fire was the result of an explosion, Duthie said, and the smell of accelerant permeated the area.
Bonomo and Ferez were students at Universite Blaise-Pascale in Clermont Ferrand, France. They had arrived in London in late May to do research at Imperial College and were planning to return to France at the end of July, Duthie said.
Both were graduate biochemistry students and had been studying DNA and the cleansing of protein within DNA, he said.
"Laurent and Gabriel had bright futures ahead of them and it is dreadful that their lives should end so soon," the college's rector, Roy Anderson, said in a statement.
Duthie said it was possible the men were the victims of mistaken identity, but he appealed to the public for any information.
"We cannot understand why these two young men were targeted," Duthie said.
Police were trying to locate a man seen running from the building shortly after the explosion, Duthie said. He said the students could have been killed by more than one person, but whoever stabbed them must have left the scene covered in blood.
"I wouldn't say this was a professional attack -- I would say it's a frenzied, brutal, horrific attack," Duthie said.
He said the room had been broken into six days before the fire, and police were investigating whether the incidents were connected.
E-mail to a friend