PARIS, France (CNN) -- Years after she was taken hostage in the jungles of South America, Ingrid Betancourt stood on French soil Friday, telling a crowd of well-wishers: "I cry out of joy."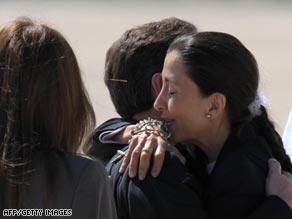 Freed hostage Ingrid Betancourt, right, hugs French President Nicolas Sarkozy on her return to France Friday
"I have been dreaming for seven years of this moment," she said, standing alongside President Nicolas Sarkozy after her plane touched down at Villacoublay military air base near Paris.
"France is my home," she added. "You are my family."
Later, speaking from the Elysee Palace, the president's official residence, she described horrors of her more than six years in the jungle, and publicly called on Sarkozy to help hostages left behind -- whom she said contemplate suicide.
"We cannot leave them there where they are suffering, where they are alone," she said.

Watch Betancourt arrive back in France »
Sarkozy vowed: "We will carry on working to free them."
Then at a news conference -- her third public event within a few hours -- Betancourt rejected suggestions that the operation that freed her was staged to cover up ransom payments to FARC. "Absolutely not," she said.
She added, "I think what I saw was certainly not a staged event. There was a degree of tension."
She described it as "a military operation in that all those who worked in the operation risked a lot in order to free me." But she said those who freed her were "not army operatives" and not dressed as military. She said the Colombian military agreed to forgo a traditional operation that would have involved weapons after pressure from France to negotiate with FARC.

Watch Sarkozy comment on Betancourt's return »
"So in that sense you saved my life," she told supporters Friday, adding that "not one shot was fired in this operation."
A citizen of both Colombia and France, Betancourt was kidnapped by FARC rebels while campaigning for the Colombian presidency in February 2002.
"I spent seven years with other human beings who had no hope," she said Friday.
"I'm talking about the soldiers and police officials taken hostage there with me. The youngest was 18 when taken hostage. He is now 28 with no wife, no family. His life has been stolen from him."
Betancourt was among 15 hostages -- including three Americans -- rescued Wednesday in a Colombian military operation. She called her release a "miracle" and praised the "heroes" in Colombia.
Betancourt also said France "did this with lots of negotiations with FARC. The FARC insurgents wanted to use us for their own ends to gain time. Certainly they were not interested in really freeing us."
Sarkozy, who stood alongside Betancourt along the tarmac after her plane landed and again at Elysee Palace, said, "We have been waiting for so long for this, Ingrid."
While her captors "behaved and treated you so badly," Sarkozy said, "here you are free, smiling, with your life ahead of you, your family around you."
He compared her situation to last year's release of a group of Bulgarian nurses who had been held by Libya for more than eight years. "There is hope, light at the end of the tunnel," Sarkozy said.
Betancourt described her captivity "at the heart of the jungle," where "there was no sunlight. I could never see the sky." Surrounded by trees and "animals more frightening than anything I could imagine," she estimates that she was forced to walk about 300 km (more than 186 miles) a year.
"I walked with a hat covering right up to my ears because so many different creatures would fall -- ants that would bite you, fleas, ticks." She also wore gloves "because everything in the jungle can bite you or sting you." If she touched something or leaned against a tree, "you've touched a tarantula, a poisonous plant. It's a completely hostile environment with dangerous animals.
"The most dangerous, of course, is man. Those men who were behind me with huge rifles, pushing me, telling me to walk, telling me to walk more quickly. And in this world of hostility where everything is an enemy, dangerous, against you, there is God. And above all, there was you."
She thanked people who "made a little space" to work for her release amid their daily lives, who "have suffered along with me" and "accompanied me in all these terrible moments of anxiety." iReport.com: See how Parisians have rallied for Betancourt
She said. "I cannot tell you how much I love you."
She added, "I owe you my life."
At her news conference, Betancourt said, "it's time that the international community puts an end to this terrible trend of kidnapping in Colombia" and around the world. "The fight against the scourge of kidnapping is just beginning."
She called on the FARC "to accept defeat gracefully" and "stop being terrorists."
"I think the whole world is aware of the fact that FARC inflicts suffering on human beings" and "feeds off and uses dirty and corrupt money," including money from drug trafficking, she said.
"It's time to end all of this insanity."
Betancourt said she will undergo a series of tests Saturday at a hospital, noting that she had "a lot of health problems over the years in captivity" and wants to restart her life "as a healthy life."

Background: A closer look at FARC »
She told CNN Thursday that she plans on spending time with her grown children , getting to know them in their new adult lives.
And she said Friday that she may eventually write books, as well as a play "that would allow me to talk about things that I'm not able to talk about."
E-mail to a friend

All About Ingrid Betancourt • Colombia • FARC • Nicolas Sarkozy