(CNN) -- Faulty radar forced Dublin Airport to briefly shut Wednesday, authorities said, with no guarantee the problem would not return.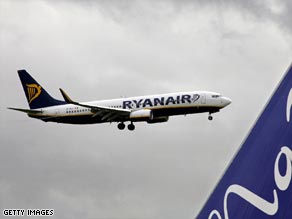 Dublin Airport found itself without a fully functioning radar systems Wednesday
Air traffic controllers at the airport could not distinguish between aircraft when the malfunction hit, said Lillian Cassin, a spokeswoman for the Irish Aviation Authority.
"When this problem was occurring the blips were still available on the radar screens, so the screens weren't going blank or anything, but the label was gone," Cassin said.
The problem has happened several times in recent weeks, Cassin said, but it happened twice Wednesday for 10 minutes each time, forcing authorities to shut down the airport.
"It's just not acceptable and safety is paramount," Cassin said. "In the interest of safety we had to take the very radical decision to shut down the system, which effectively closes Dublin Airport."
The problems never posed a danger, she said, because air traffic controllers could still see blips on their screens and were able to use other procedures to monitor aircraft in the meantime.
Engineers rebooted the system Wednesday afternoon and the problem went away, she said. The airport resumed operating at half its capacity, allowing 12 arrivals and 12 departures per hour, she said.
Authorities must be satisfied the system is stable before fully reopening the airport, Cassin said.
Dublin Airport advised passengers to check with their airlines before traveling.
Teams of engineers from Thales, which manufactures the radar systems, and its subcontractor Hewlett-Packard were already at Dublin Airport looking into the problem, Cassin said, but so far the cause remains a mystery.
"Everybody who can possibly be looking at the system is looking at the system," she said.
E-mail to a friend