LONDON, England (CNN) -- The UK Ministry of Defence confirmed Thursday that it has agreed to pay £2.83 million ($5.58 million) to the family of an Iraqi who died while being detained by UK troops and several other men who were mistreated.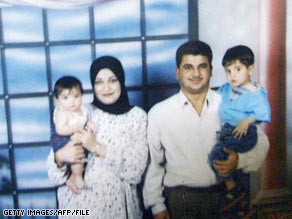 A family photo of the Musas.
The family of Baha Musa and eight other Iraqi civilians will share the money, according to the law firm handling the case. Another man who was among those mistreated died before the settlement was reached and his family will be also share the money, the firm said.
During mediation efforts to agree the compensation figure, the British deputy commander of coalition forces in Iraq, Gen. Freddy Viggers said: "The British Army apologize for the appalling treatment that you suffered at the hands of the British Army. The appalling behavior of British soldiers made us feel disgusted."
The compensation will be paid to Musa's children and the eight survivors for "pain and suffering" caused by British soldiers, according to a news release from the Iraqis' lawyers.
Martyn Day, who represented the claimants, said: "Our clients have been through hell over the last few years and this settlement will go some way to enabling our clients to have some semblance of a decent future life."
Musa and eight of the nine men -- all Iraqi civilians -- were arrested and taken into custody by British soldiers in September 2003. The other man, who later died, was detained in a separate incident, the law firm said.
An examination after he died in Basra showed that Musa -- a 26-year-old hotel receptionist -- suffered asphyxiation and had more than 90 injuries in his body.
British authorities announced in May it would launch an inquiry into his death. Defense minister Des Browne said the inquiry "is the right thing to do."
"It will reassure the public that we are leaving no stone unturned in investigating his tragic death," he said at the time. "The Army has nothing to hide in this respect and is keen to learn all the lessons it can from this terrible incident."
A defense ministry spokesperson pointed out that most of the British troops in Iraq "have conducted themselves to the highest standards of behavior, displaying integrity and selfless commitment."
"But this does not excuse that during 2003 and 2004 a very small minority there committed acts of abuse and we condemn their actions," the spokesperson said.
"It is right that compensation has been agreed through mediation. The Army has done a great deal since these cases to improve procedures and training. But we are not complacent and continue to demand the very highest standards of conduct from all our troops."
The other eight men who will be compensated by the ministry are Ahmed Taha Mosah, Mohammed Ameen Challab Al-Waz, and six others whose identities were ordered withheld by the High Court.
E-mail to a friend