(CNN) -- Thousands of people are flocking to Pamplona, Spain, for the Festival of San Fermin and the running of the bulls -- a tradition that goes back for generations.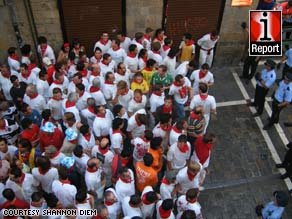 iReporter Shannon Diem says the crowds were more dangerous than the bulls.
iReporter Paul Morris decided to make the dash down the city's wine-soaked, cobblestone streets in 2004 after reading Ernest Hemingway's "The Sun Also Rises."
"It put a hook in me," Morris told CNN. He was studying in the Netherlands at the time, so he caught a plane to Barcelona and took an overnight bus that got him there just in time for the chase.
Morris, now a 29-year-old law student in Chicago, Illinois, described the experience as "intense."
"I waited while people around me started running, until there was a moment, a moment of panic where instinctively I started running as fast as I could," he wrote. "At that moment a 1,700 pound bull came rushing by me."
Todd Lindner of Sarasota, Florida, made the run last year and actually touched a bull.
"I don't think my heart's ever been beating faster," he said.
Many iReporters described the scene as festive, though alcohol-soaked might be a better description.
iReport.com: Read stories of past bull runs
Meghan Eyerman, 24, said people in balconies would dump red wine on the runners below, turning their traditional white and red costumes pink or grayish.
"It's common and sticky!" she said.
Shannon Diem made the run after pulling all-nighters and drinking Calimoxto -- a mixture of red wine and Coca-Cola.
He stayed as sober as possible on the first night, but that didn't last as the festival went on.
Diem got some minor scrapes from being trampled by the crowd, which he said was more dangerous than the bulls.
Jeff Keacher compared the 2004 festival to Mardi Gras in New Orleans, "only bigger and crazier."
The crowd was packed so tightly into the street that he said he could hardly move before he heard the bang of the rocket signaling the bulls were on the run.
"It was one of the craziest things I've done, and I'd do it again in a heartbeat," he said.
E-mail to a friend