From Alina Selyukh
CNN

MOSCOW, Russia -- Lightning has killed and injured more than a dozen people in Russia in the past two weeks, officials say, blaming widespread use of electronic gadgets such as cell phones for an increase in deadly strikes.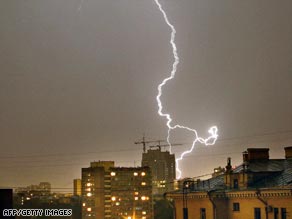 Dozens of people have been killed or injured by lightning in Russia.
On Wednesday, a lightning bolt killed three sunbathers in the town of Neftekamsk, 800 miles east of Moscow.
One victim, Marina Sadykova, 26, was among a few people on a beach along the Kama River when a storm moved in. Witnesses said they saw a sharp, blinding ray of light that raised 7.6 meters (25 feet) of sand.
The woman -- mother of a 5-month-old boy -- was talking on a cell phone when she was killed, and the phone was found melted in her hand, according to police.
Russian media have reported similar instances across central Russia, including the death of a 10-year-old boy on a bike, a young man talking on a cell phone and an elderly farmer tending her potato plants.
Leonid Tarkov of the weather observation center FOBOS said he believes that the surge in lightning strikes may be connected to the increased use of portable electronic technology, such as cellular phones or music players.
"These things are electromagnetic field carriers," he said. "That makes them, in essence, conductors. Thunderbolts are frequently attracted to such things, and hits are often connected with a lethal outcome."
The idea that lightning can follow the weak electromagnetic fields of such devices is rejected by virtually all scientists, although there is evidence that a lightning strike is more likely to be fatal for a person carrying any object with metal in it.
And Tarkov himself pointed out another explanation for the surge in lightning strikes in Russia this summer: The country has been hit by an unusually high number of storms.
He said Moscow is 139 percent above normal for rainfall this month, including 51 millimeters (2 inches) from a fierce thunderstorm Wednesday, the equivalent of five buckets of water on each square meter.
"The absolute July maximum was observed in July 1965, when 184 millimeters (7.24 inches) of precipitation fell on Moscow," he said. "If such weather continues, it's not unlikely for the absolute maximum to be topped."
Storms left dozens of houses across Central Russia without electricity or water, and lightning ignited fires that burned a number of them, according to media reports.
More than a hundred trees were reported felled by winds in Moscow on Thursday night, and traffic was regularly stalled by flows of water during the past week. Thursday's storm also cut power to the rails used by public transportation, halting movement for more than an hour. Dozens of frustrated passengers who missed their flights are still in Moscow.
Russia's stormy weather is likely to last at least another week, Tarkov said. He cited contrasting weather in the central region as the cause: A vast anticyclone that has settled over the area first carries cool humid North Atlantic winds and, hours later, subtropical heat.
"This only happens once in five to seven years," Tarkov said. "We haven't had such intensive storm activity in a while."
E-mail to a friend

CNN Moscow Bureau's Maxim Tkachenko and Mike Sefanov contributed to this report.