By CNN's Simon Hooper
(CNN) -- The arrest of Bosnian Serb war crimes suspect Radovan Karadzic, offers a clear indication of Serbia's shift towards the West in recent months after years as an international pariah even with Belgrade still at odds with the international community over the status of the breakaway province of Kosovo.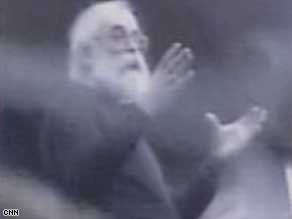 An image of Karadzic released after his arrest shows him with a heavy white beard.
Along with his military commander, Ratko Mladic, Karadzic is alleged to have masterminded the Srebrenica massacre, in which up to 8,000 Bosnian Muslims are estimated to have been systematically executed, and a string of other atrocities during the former Yugoslavia's bloody civil war of the early- to mid-90s.
Both men had been on the run since being indicted in 1996 by the special tribunal in The Hague investigating allegations of war crimes, human rights abuses and ethnic cleansing during the conflict. But Serbian political leaders and security officials had always maintained they had no idea where either Karadzic or Mladic -- who remains at large -- were hiding.
"Serbia has been under tremendous pressure from the international community and EU leaders to deliver Karadzic and Mladic," said CNN's Alessio Vinci. "In the past leaders argued they simply did not know where they were, or simply said they were not in Serbia, but hiding in the mountains in the Serb-controlled area of Bosnia."
Vinci said it was significant that Karadzic's arrest had come just a few weeks after the appointment of a pro-western coalition government spearheaded by the Democratic Party of Serbian President Boris Tadic and new Prime Minister Mirko Cvetkovic following a narrow victory over nationalists in parliamentary elections in May.
The biggest losers in May's elections were the ultra-nationalist Radical Party -- whose party president Vojislav Seselj is currently himself on trial for war crimes at The Hague -- and former prime minister Vojislav Kostunica's Democratic Party of Serbia.
Both factions have voiced opposition to the war crimes tribunal and had called for Serbia to distance itself from the West over U.S. and EU support for Kosovan independence.
"This is a clear signal the wind is changing in Serbia, a country split between nationalists who believe people like Mladic and Karadzic are heroes and pro-West supporters who see them has an impediment to Serbia joining western European institutions such as the EU," Vinci said.
While Kosovo remains a diplomatic sticking point, Serbian President Tadic has refused to allow the issue to derail his country's bid for European Union accession. In April Serbia's government signed a key pre-membership agreement which required Belgrade's full cooperation with the war crimes tribunal.
Speaking at a joint press conference with Serbian foreign minister Vuk Jeremic on Tuesday, EU enlargement commisser Olli Rehn argued that that deal should now come into force.
Vinci said it was significant as well that the arrest of Karadzic had been carried out by Serbian security forces which have long been thought to harbor elements sympathetic to alleged war criminals.
"Karadzic's arrest is a strong signal that things are changing fast -- so fast in fact that Karadzic, who was arrested in a Belgrade suburb, didn't realize soon enough he no longer enjoyed the protection of some security forces," Vinci said.
But Vinci warned that the scenes of celebration Tuesday in the Bosnian capital Sarajevo -- besieged for almost four years by Bosnian Serb forces -- would not be followed in Serbia. Karadzic remained a popular figure with Bosnian Serbs after the civil war and had continued to enjoy the protection of the local population wherever he was hiding, he said.
"In 2002 after NATO launched one of its many failed raids to try to arrest him in Bosnia, I interviewed Karadzic's mother. She told me: 'Serbs are righteous people and I can see that they support him and that the adore him the way he is. They would lose their lives to protect him.'"
E-mail to a friend

All About Radovan Karadzic • Ratko Mladic • Bosnia and Herzegovina