(CNN) -- Radovan Karadzic's arrest after a decade-long hunt is the equivalent of catching Europe's Osama bin Laden, the U.S. diplomat who brokered peace in Bosnia says.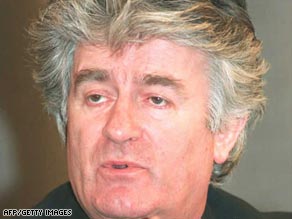 Radovan Karadzic, seen here in 1995, has been arrested after a decade-long hunt.
Richard Holbrooke, who negotiated the 1995 Dayton Peace Agreement, led the chorus of congratulations from around the globe telling reporters it was "a historic day."
"One of the worst men in the world, the Osama bin Laden of Europe, has finally been captured. A major, major thug has been removed from the public scene."
"He was at large because the Yugoslav army was protecting him. But this guy in my view was worse than Milosevic [Yugoslav President Slobodan Milosevic]... he was the intellectual leader," Holbrooke told CNN.

Watch Holdbrooke talk about the arrest »
David Miliband, Britain's Foreign Secretary, said it would "pave the way for a brighter, European future for Serbia and the region."
The White House released a statement congratulating the government of Serbia, and thanked the people who arrested Karadzic on a bus in Belgrade for their "professionalism and courage."
Paddy Ashdown, the former international administrator in Bosnia, told the BBC that it was a "longed hoped for day."
"The four years that I was working with NATO to try and catch him were peppered by rumors of where he was -- in this cafe, on that mountain, in this valley."

Watch Karadzic's lawyer slam arrest »
Ashdown also told Britain's Daily Telegraph newspaper that it was a "major breakthrough for the Balkans region."
"Karadzic was accused of being the architect of the worst war crimes that have been perpetrated in Europe since the Nazis.
"It is a major credit to Serbia and at last brings the prospect of justice for Bosnia," Ashdown said.
The arrest brought Serbia's hopes of joining the EU one step closer to realization, EU foreign affairs chief Javier Solana lauding the news.
"This ... gives us immense satisfaction. The new government in Belgrade stands for a new Serbia, for a new quality of relations with the EU."
Vuk Jeremic, Serbia's Foreign Minister, said the arrest was proof Serbia was "serious when it comes to her European fate."
However, Serb Radical Party Secretary General Aleksandar Vucic said it was "horrible" news and that the country was "on its way to disappear."
Karadzic, 63, is accused of leading the worst acts of brutality Europe has seen since the Nazi campaigns of World War II.
He is wanted over he deadly siege of Sarajevo, which left an estimated 10,000 people dead, and the 1995 massacre of 8,000 Muslims in Srebrenica.
E-mail to a friend