(CNN) -- Russian troops, tanks and warplanes descended on the province of South Ossetia on Friday, responding to a Georgian offensive aiming to crack down on the province's separatists.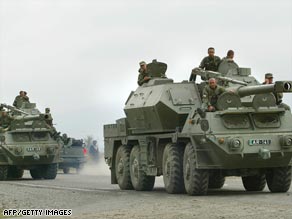 Georgian troops in armoured personnel carriers deploy to support the campaign to regain control of South Ossetia.
The conflict is rooted in a battle between the Georgian government, the people of South Ossetia and Russia, whose officials said they have peacekeeping missions in the area.
The Georgian government is battling with the people of South Ossetia because of their continued demands for independence.
The Georgian government insists South Ossetia must remain part of its territory and refuses to budge on the region's continuing demands for independence.
The Georgian government also refuses to bow to a push by some South Ossetians for a reunification with North Ossetia, which would place the region under Russian control.
Russian leaders have said they will defend their citizens in South Ossetia, referring to the nearly 70,000 people who have Russian passports or work in the neighboring country.

Watch the Georgian president describe being under a "full scale" attack" »
Don't Miss
Leaders in Moscow insisted the Russian military response was aimed at protecting peacekeeping forces and civilians in South Ossetia, but Georgia cast it as a full-on invasion.
The battle holds significance to other world powers, including the United States, for its threat to the stability of a critical region, and for its importance in the oil trade.
World powers do not want to see the region destabilized by a military battle because the area is important for oil transport, serving as a keystone in a route that avoids Russia and Iran.
E-mail to a friend

All About South Ossetia • Republic of Georgia • Russia