TBILISI, Georgia (CNN) -- Both Georgia and Russia claim that ethnic Georgians and ethnic Russians are wrongly being detained in the conflict over South Ossetia.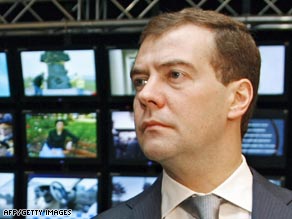 Russian President Dmitry Medvedev says its citizens are being held in Georgia.
Russian troops and their allies were making "mass arrests" of Georgian civilians in the breakaway Georgian region of South Ossetia and were taking them to a local village, the Georgian government said in a statement.
"According to the reliable information held by the Ministry of Foreign Affairs of Georgia, Russian servicemen and separatists carry out mass arrests of peaceful civilians of Georgian origin still remaining on the territory of the Tskhinvali region and subsequently concentrate them on the territory of the village of Kurta," the government said on Monday.
The statement said Georgia was appealing to the world community and international humanitarian groups "to immediately take decisive and effective measures for the evacuation of this population from the conflict zone."
The Russian government issued a statement on Monday by President Dmitry Medvedev denouncing "the enforced detention of Russian citizens in Georgia."
He called that situation "unacceptable" and "in complete violation of international law."
"The president also stressed that foreigners legally in Russia, including Georgian citizens, should not be subjected to any sort of discrimination and instructed the Ministry of Internal Affairs to keep this matter under its control."
E-mail to a friend

All About South Ossetia • Republic of Georgia • Russia • Mikhail Saakashvili