TBILISI, Georgia (CNN) -- Georgian President Mikheil Saakashvili argues in an op-ed column in Monday's Wall Street Journal that Russia picked the fight with Georgia in South Ossetia to crush Georgia's pro-Western democracy.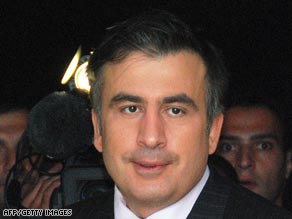 Georgian President Mikheil Saakashvili says Russia wants to extend its control over former Soviet states.
"The Kremlin designed this war," Saakashvili writes.
He also argues that the conflict is about "the future of freedom in Europe."
If Russia succeeds, Saakashvili says, it would mark the end of Western influence on any of the former Soviet republics.
"It is clear that Russia's current leadership is bent on restoring a neocolonial form of control over the entire space once governed by Moscow," he writes.
Western leaders have responded to Saakashvili's pleas for help by putting diplomatic pressure on Russia, but that has so far failed to win a cease-fire.
Russian officials insist their continuing attacks against Georgia, which included airstrikes that have hit civilian residences in Georgian cities, are aimed at protecting South Ossetians from Georgia's military.
Saakashvili writes that last week's escalation of hostilities followed months of Russian provocations, first in the Georgian breakaway province of Abkhazia.
"When this failed, the Kremlin turned its attention to South Ossetia, ordering its proxies there to escalate attacks on Georgian positions," he says in the column. "My government answered with a unilateral cease-fire; the separatists began attacking civilians and Russian tanks pierced the Georgian border. We had no choice but to protect our civilians and restore our constitutional order."
The long-running separatist disputes, however, are just a pretext for Russia's aggression, he argues.
"Yet in reality, it is a war about the independence and the future of Georgia," he writes. "And above all, it is a war over the kind of Europe our children will live in. Let us be frank: This conflict is about the future of freedom in Europe."
Saakashvili argues that Georgia was targeted because "no country of the former Soviet Union has made more progress toward consolidating democracy, eradicating corruption and building an independent foreign policy than Georgia.
"This is precisely what Russia seeks to crush."
Georgia, he says, has "worked hard to peacefully bring Abkhazia and South Ossetia back into the Georgian fold, on terms that would fully protect the rights and interests of the residents of these territories."
Those efforts have been undermined by Russia's annexation of Abkhazia and South Ossetia, treating the Georgian regions as Russian provinces, his column says.
"While we appealed to residents of Abkhazia and South Ossetia with our vision of a common future, Moscow increasingly took control of the separatist regimes," he writes. "The Kremlin even appointed Russian security officers to arm and administer the self-styled separatist governments."
At stake, he argues, is much more than Georgia's future.
"If Georgia falls, this will also mean the fall of the West in the entire former Soviet Union and beyond," he writes. "Leaders in neighboring states -- whether in Ukraine, in other Caucasian states or in Central Asia -- will have to consider whether the price of freedom and independence is indeed too high."
E-mail to a friend

All About South Ossetia • Republic of Georgia • Russia • Mikhail Saakashvili