(CNN) -- People in Georgia, as in other crisis spots around the world, have been using the World Wide Web to tell the world their personal stories of fear and survival and to deliver firsthand analysis.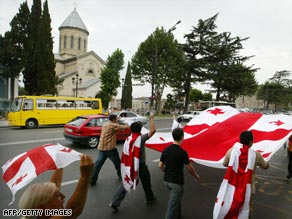 Georgians march in the capital, Tbilisi, on Tuesday to protest Russia's military invasion of their country.
The weblog Global Voices Online, a nonprofit media project founded at Harvard Law School's Berkman Center for Internet and Society, has been collecting posts by bloggers writing about the military conflict between Georgia and Russia that began Friday.
Here are some samples of what people are writing:
Merienn, Tbilisi, 1:38 a.m. Tuesday: I don't know what's going to happen tomorrow morning. Maybe tanks will enter the city. Mishka is asleep, my little boy, he kept turning around, asking: "They aren't bombing Batumi [another city], are they?" ... No one is going to back out at this point -- they'll be eating us hot.

Watch the violence continue despite a cease-fire »
Merienn, 7 p.m. Monday: At home, the walls [of a house] help. ... Value all that you have. Value the fact that you are alive and healthy, that you can watch a movie instead of the news, that you can buy a ticket and go anyplace you like.
Merienn, 10:46 a.m. Monday: There was shock on the first day, and then it started feeling as if we've been living like this for a hundred years. Crowds of people are donating blood. We knew that this is how it would be. We are not leaving anywhere [because] all they do is wait for us all to leave.
Serge, 3:27 a.m. Tuesday: What Georgian expected in this situation? Maybe flowers? They are modern fascists, who killed civilians, kids, elderly people in South Ossetia. Western "so called" free media show georgians' point of view and not even single reportage about people from Ossetia. Why Saakashvili talks to georgians in English, maybe he forgot native language? ... I hate that many georgians who do not support criminal Saakashvili's regime have to suffer because of him.
Stefan, 4:39 a.m. Tuesday: There is an obvious propaganda war being fought here, on both sides, and rousing statements and "facts" should all be treated as such until international observers or some other party can verify them, if the opportunity ever comes about. I don't think Georgia is blameless here but let's not forget that all else aside, Russia has invaded a sovereign country.
Ivan, 10:58 a.m. Tuesday: Georgians killed so many citizens of Ossetia (most of them were Russians) that any neighbor now is damning Saakashvilly! Now Abkhasians are ready to kick Georgians ass for this attack! ... They may not tell the truth by western news! Because if they will, everybody [will see the] falsity, elastic conscience and violence of georgians troops! Russia's and former soviet's mass media can show the real picture of that events! Ask for any Ossetian or Abkhasian or Armenian or other Caucasian! Nobody supports Georgia ... Why is that ...? Because nobody approve georgians actions and "US+NATO+Georgian" regime...
Kai, 2:29 p.m. Tuesday: While there are a large number of people within S Ossetia who have strong ties to Russia and may also hold Russian passports, the move by Russia to advance military forces into another country's sovereign territory cannot be seen as a legal action in any interpretation of the U.N. charter, or by any agreed international norms of conduct between states. This is really true when Russia has went outside the zone of conflict of Ossetia, and attacked civilian targets in Tbilisi. ... I cant help wondering if Russia would [have] been audacious enough to defy international law if there wasn't a trend in defying it set by the U.S. over the years.
E-mail to a friend

All About Republic of Georgia • Russia • South Ossetia