(CNN) -- Through the haze of a blurry amateur video, you can clearly make out the waving flags and crowd of chanting people outside the Russian Embassy in Tbilisi, Georgia.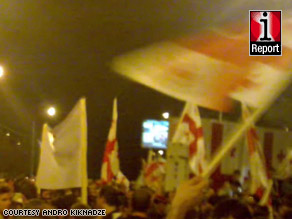 iReporter Andro Kiknadze participates in a massive demonstration Sunday in Tbilisi, Georgia.
Andro Kiknadze participated in a rally with friends Sunday to protest the brewing conflict between Russia and Georgia. Kiknadze said he is afraid of what could happen between the two countries.
He uploaded video and photos of the demonstrations to iReport.com to help tell his story.
"Please, please help us. We are losing our treasure, our freedom. Please call for your friends and go out. Please push your governments to react."
He said the online forum he used to organize supporters appeared to have been taken down and described a "cyber war" in which some Web sites appear to be blocked and people are scared. Kiknadze said he is heartbroken about what he is seeing.
"I am almost crying because I'm seeing my country is falling," Kiknadze said.
iReport.com: Watch the rally outside the Russian Embassy
Many U.S. citizens in Georgia are being evacuated to avoid a potentially dangerous situation.
Melissa Scholz, originally from Atlanta, Georgia, had been working in Tbilisi for the Eurasia Partnership Foundation for two months. She said she felt secure for the time being, but the reminders of the war were inescapable and the city was locked down.
"I haven't seen any violence firsthand, though some loud bomblike sounds were heard a few hours ago. The city is very anxious, but everyone seemed to be trying to go about their normal business all day."
iReport.com: See a video gallery of a day in Tbilisi
She said she had hoped to stay in Tbilisi, but her organization issued a detailed evacuation plan. According to the plan, she would travel by car into Armenia with one bag for a planned stay of about seven days. Backup plans also were in place to go elsewhere if needed.
Scholz took photos of a demonstration throughout the central government areas of Tbilisi on Saturday. She saw people waving flags and described the setting as peaceful and patriotic.


See pictures of protesters throughout the world »
On Sunday, she counted crowds in the thousands gathered in Rustaveli Square and surroundings.
"The news is being shown on a big screen and those gathered are draped in Georgian flags, holding candles and waving banners and signs, many saying 'Stop Russia' or 'Peace,' " she wrote. iReport.com: See photos of the demonstrations Scholz saw
As Scholz headed toward Armenia to evacuate, a group of students already there pondered the question of whether they should go home to Georgia or stay in what they believed to be a safer place.
Journalist and volunteer Pamela J. Karg was helping to lead a group of university students studying in Yerevan, Armenia.
She said the students were supposed to return to Georgia in the next few days and have spent a couple of days awaiting news about whether they would have to go.
iReport.com: Watch an iReporter comment on the U.S. role abroad
Karg said she sat awake at 2 a.m. Tuesday, unable to sleep from worrying about what would happen the next day. She said she was relieved to find out that they would be staying in Armenia for a few more days.
The students protested at the Russian Embassy in Yerevan as part of a group including Georgian natives living or vacationing in Armenia. Security forces outnumbered those who had gathered, she said. iReport.com: Students protest and wait in Armenia
Karg said the students' parents wanted them to stay in Armenia for safety reasons, and she was inclined to agree. The group felt there was no going back, even if the students wanted to return to Georgia.
Like those caught up in the struggle, Karg said she could only watch and hope for the best as the students kept their fingers crossed.
"It's just a matter of what can be done," Karg said. "If they have to leave, then they have to leave."
E-mail to a friend

All About Armenia • Russia • Republic of Georgia