LONDON, England (CNN) -- Two Chinese nationals found dead in an apartment in a brutal double killing in the northern English city of Newcastle last week may have been involved in Internet betting scams and producing false visas, police said Friday.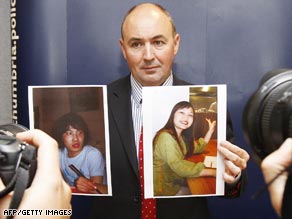 Detective Superintendent Steve Wade of Northumbria Police holds up photographs of Chinese students Zhen Xing Yang, left and Xi Zhou .
Friends found the bodies of Xi Zhou and her boyfriend Zhen Xing Yang, both 25, last Saturday at the couple's home and called police.
Police said both died in a violent attack with a sharp-edged instrument and knife and had suffered extensive head injuries.
Police said an examination of the victims' computers and cell phones led them to believe Yang may have been involved in Internet betting scams and the arranging of fraudulent documentation like traveling visas and professional qualifications.
"A possible motive for the killing is beginning to emerge concerning the lifestyle of Xi Zhou and Zhen Xing Yang," said Detective Superintendent Steve Wade, leading the investigation.
"Community intelligence, supported by the examination of computer equipment and mobile call data, has shown that both of the victims have been involved in fraudulent activity which has angered and upset a number of people. We are currently investigating this as a possible motive for the killings."
Police appealed for information about the pair's last movements.
Zhou had worked as a waitress at a restaurant chain, where coworkers described her as hard-working with a bubbly personality, police said.
Zhou, whose parents live in China's Hunan province, had been in the UK for a little more than three years, police said.
Police said they were unable to trace the employment status or family for Yang, who had been in the UK for five years.
The pair met at Newcastle University, both graduating in September 2006, police said.
Investigators have been examining more than 2,500 hours of surveillance camera footage in the case, police added.
E-mail to a friend