(CNN) -- Poland and the United States have signed a preliminary deal to place part of a U.S. ballistic missile defense system in Poland, a plan that has drawn sharp objections from Russia.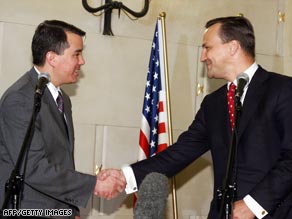 U.S. chief negotiator John Rood (left) and Polish Foreign Minister Radoslaw Sikorski shake hands.
"We believe that missile defense is a substantial contribution to NATO's collective security," said White House spokeswoman Dana Perino. "So we are pleased with the development."
The Bush administration has long wanted to put missile interceptors in Poland. The interceptor rockets would be linked to an air-defense radar system in the Czech Republic; officials there agreed in April to take part in the system.
In Moscow, a top defense official in Moscow took a dim view of the development.
Col. Gen. Anatoly Nogovitsyn, deputy chief of staff of the Russian armed forces, called it "a very serious question."
"There is a lot of work to be done and the American side is aggravating the sitation even more in the relationship between the United States and Russia," Nogovitsyn said when asked about the U.S.-Poland agreement. He was speaking at a briefing called to discuss the Russia-Georgia crisis.
Both countries are former Soviet satellites which now belong to the NATO alliance. The plans to base the anti-missile system in Eastern Europe have raised alarms in Russia, which fears the system would blunt its nuclear deterrent.
The United States has also agreed to help Poland modernize its military, which it requested as a condition of its support for housing the missile defense system.
"Our political and military cooperation moves to a different higher level." Radoslaw Sikorski, the Polish foreign minister, said, after the signing.
Thursday's agreement comes amid heightened tensions between the United States and Russia over Moscow's invasion of Georgia, a U.S. ally.
A highly placed source in the Russian Foreign Ministry told CNN that the agreement between Washington and Poland was clearly aimed at deterring Russia, not preventing rogue missile attacks from Iran. The latter has been cited as a reason for installing the defense system.
E-mail to a friend