From Mike Mount
CNN Pentagon Producer

WASHINGTON (CNN) -- The first U.S. military ship carrying humanitarian aid for Georgia is headed to the Black Sea after loading the supplies from a port in Crete on Wednesday, according to U.S. Navy officials.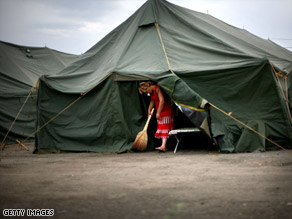 A woman sweeps her tent at a camp for refugees, many from the South Ossetia region, in Tbilisi, Georgia.
The destroyer USS McFaul is one of two ships the Navy will use to transport the aid because the two had permission from Turkey to transit into the Black Sea before the conflict between Georgia and Russia began, according to U.S. Navy officials.
The McFaul and the Coast Guard Cutter Dallas were given permission to enter the Black Sea, a requirement for non-Black Sea nation war ships, for a previously scheduled series of engagements with various regional navies, U.S. Navy officials said.
A third ship, the USS Mt. Whitney, has been identified by the Navy to assist in aid delivery but has not been given permission to enter the Black Sea, officials said. It was unclear whether it would be used.
Navy officials said the USS McFaul is going ahead with its original mission to work with regional navies and will deliver the aid if a request from Georgia comes to the U.S.
The Coast Guard Cutter Dallas is scheduled to deploy to the Black Sea in the coming days on the same mission as the McFaul. It will also carry humanitarian aid and deliver it to Georgia upon request from the Georgian government, Navy officials said.
The Dallas is in port in Crete, and the Mt. Whitney is in port in Italy, Navy officials said.
E-mail to a friend

All About Republic of Georgia • U.S. Navy