MOSCOW, Russia (CNN) -- U.S. President George W. Bush has urged Russia not to recognize the independence of Georgia's breakaway regions of South Ossetia and Abkhazia, saying he was "deeply concerned" by the Russian parliament's move toward recognition.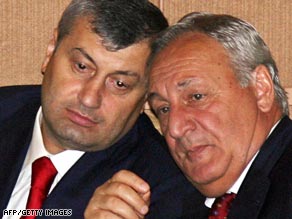 Presidents Eduard Kokoity of South Ossetia and Sergei Bagapsh of Abkhazia at the Russian Duma.
"Georgia's territorial integrity and borders must command the same respect as every other nation's, including Russia's," Bush said in a statement from his vacation home in Texas.
He said recognition would be "inconsistent" with previous U.N. Security Council resolutions on the situation, which Moscow has supported in the past.
"The United States will continue to stand with the people of Georgia and their democracy and to support its sovereignty and territorial integrity," he said.
Russian lawmakers asked President Dmitry Medvedev on Monday to recognize the independence of the two breakaway regions.
Neither Russia nor the United Nations currently recognize either region as independent, despite both declaring de facto independence from Georgia.
The two regions have autonomous governments backed by Russia.
On Monday, both houses of Russian parliament voted unanimously for such recognition. The Federation Council, the upper chamber, voted 130-0 and the Duma, the lower chamber, voted was 447-0 with three lawmakers absent.
However the parliamentary votes are not legally binding and Medvedev will make the final call.
"We have more political-legal grounds than Kosovo to have our independence recognized," South Ossetia President Eduard Kokoity told the upper chamber, according to the Interfax news agency. "When I say 'we' I mean both South Ossetia and Abkhazia."
The vote was rejected by Georgian President Mikheil Saakashvili, who called it an attempt by Russia to "justify the occupation" by its forces, which remain in parts of Georgia.
"It is unjustified, it is against the norms of international law and poses a challenge to the world community," he said.
White House spokesman Tony Fratto said the status of Abkhazia and South Ossetia is "not a matter for any one country to decide."
"They're a matter for the international community, through the mechanisms at the United Nations," Fratto said. "Those two regions are part of U.N. resolutions -- resolutions, by the way, that Russia has supported in the past."
Meanwhile U.S. Vice President Dick Cheney will travel to Georgia next week as part of a broader visit to "key partners" in Europe and Asia, the White House announced Monday.
During his visit Cheney will "reiterate U.S. commitment" to Georgia, and consult with Saakashvili "on common security interests," a White House official said.
Georgian troops attacked pro-Russian separatists in South Ossetia on August 7, triggering a Russian assault into Georgia.
Russian tanks, troops and armored vehicles poured into South Ossetia and Abkhazia, then advancing across the administrative borders towards Georgian cities.
Each side offered conflicting figures on how many people died in the fighting.
Kosovo declared independence from Russia's historical ally Serbia in February. Serbia still considers Kosovo a province and has refused to recognize its self-declared status.
Russian officials -- angered by U.S. and European support for the independence of Kosovo -- have said Abkhazia and South Ossetia should have self-determination.
The two regions broke away from Georgia during civil wars in the 1990s, but they are not internationally recognized as independent nations.
Georgia considers them part of its territory, and the Bush administration has insisted that both Abkhazia and South Ossetia remain part of Georgia, a U.S. ally that is seeking NATO membership.
E-mail to a friend

-- CNN's Michael Sefanov contributed to this report
All About Russia • Republic of Georgia • Abkhazia • South Ossetia • Kosovo