LONDON, England (CNN) -- The British Museum plans to display a statue of supermodel Kate Moss that it bills as the largest gold statue built since ancient Egypt.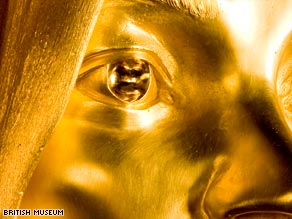 The statue of Kate Moss will be displayed in the British Museum in a gallery holding anicent Greek sculpture.
Called "Siren," the statue will be part of a group of major sculptures by leading British artists to go on display at the museum in October, the museum announced.
The museum says the artist, Marc Quinn, claims it's the largest gold statue since ancient Egypt.
His previous work included the marble sculpture Alison Lapper Pregnant, which appeared on a plinth in London's Trafalgar Square.
The Kate Moss statue, weighing 50kg, will be displayed in a gallery of the museum that houses ancient Greek sculpture. The museum calls it a "fitting setting" for the statue of Moss, "interacting with the great Greek beauties that surround it."
Moss, whose slight frame was at the forefront of the waif look in the mid-1990s, is now nearly as well known for her celebrity lifestyle as her modeling career.
The one-time girlfriend of British rocker Pete Doherty is a tabloid newspaper and celebrity magazine favorite, and now dates Kills guitarist Jamie Hince.
She has recently mixed her modeling work with designing collections for the British clothing giant, Topshop.
Other artists exhibiting include Damien Hirst, who most recently created a $100 million diamond-covered skull, and Angel of the North creator Anthony Gormley.
The exhibit is expected to run from October 4 through January 25, 2009.
E-mail to a friend