LONDON, England (CNN) -- The family of a British soldier serving in Afghanistan has been forced from their home after a poisonous spider hitched a ride back with him and apparently killed their pet dog.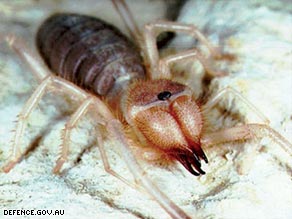 The camel spider's bite is not deadly to humans but can kill small animals.
Lorraine Griffiths and her three children, aged 18, 16, and 4, moved out of their house in Colchester, southeast England, and are refusing to return until the spider is apprehended, the UK Press Association reported.
Griffiths told the East Anglian Daily Times that the spider appeared after her husband, Rodney, returned from a four-month tour of duty in Helmand province, the arid southern Afghan frontline in the fight against Taliban extremists.
"My son Ricky was in my bedroom looking for his underwear, and he went into the drawer under my bed, and something crawled across his hand," she told the paper.
She said their pet dog Cassie confronted the creature, which they identified on the Internet as a camel spider, but ran out whimpering when it hissed at her.

Watch the family that has been terrorized by the spider »
"It seems too much of a coincidence that she died at the same time that we saw the spider," she said.
The desert-dwelling camel spider, actually an insect rather than an arachnid, can run up to 25 kilometers (15 miles) an hour and reach 15 centimeters (6 inches) in length. Its bite is not deadly to humans but can kill small animals.
E-mail to a friend