MOSCOW, Russia (CNN) -- The European Union threatened Monday to postpone talks with Russia but stopped short of imposing sanctions following the conflict with Georgia.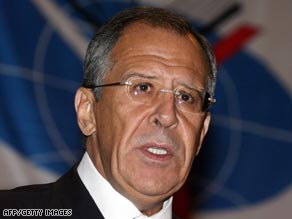 Russian Foreign Minister Sergey Lavrov has issued another warning to the West over Georgia.
French President Nicolas Sarkozy says the EU will have to re-examine its partnership with Russia if Moscow does not respect a cease-fire agreement.
"We are convinced that it is in Russia's own interests not to isolate itself from Europe," a meeting of EU leaders concluded.
Sarkozy, whose country holds the six-moth rotating EU presidency, says he will visit Moscow next week to see Russian leaders.
"We will be asking Russia to ensure the full and scrupulous respect of the (cease-fire) plan," he said. "The EU would welcome a real partnership with Russia that is in the interests of all, but it takes two to tango. You have to be two to have a partnership.
"Therefore this crisis means that we have to re-examine our relationship with Russia."
EU leaders met Monday in Brussels, Belgium, to discuss how to react to Russia's recognition of the breakaway Georgia regions Abkhazia and South Ossetia as independent states.
Georgian troops attacked pro-Russian separatists in South Ossetia on August 7, triggering the Russian response. Each side offered conflicting figures on how many people died in the fighting.
Russia has also not fully withdrawn its troops from Georgia after sending its troops across the border for what it called peacekeeping operations and what Georgia called an invasion. What do you think about the crisis?
Russia on Monday accused "foreign navy ships" of delivering weapons to Georgia as the European Union met to discuss possible sanctions against Moscow.
Russian Foreign Minister Sergey Lavrov also said the West would be making a mistake of "historic scope" if it continued to support Georgia.
Lavrov called for an arms embargo on Georgia until its President Mikhail Saakashvili was out of power.
"If the United States and its allies ultimately opt for the Saakashvili regime, which has not taken any lessons from the recent events regarding South Ossetia ... they will make a mistake of an historic scope," the news agency Interfax quoted Lavrov as saying.
He said Russia would continue taking measures against the Saakashvili administration "to ensure that this regime will never commit evil again."
Meanwhile, Andrey Nesterenko, Lavrov's spokesman, said an aid delivery had included a shipment of arms which could be used against South Ossetia.
"This is why we suggested that it might be good to consider the possibility of imposing embargo on arms shipment to Georgia so that the stability we all talk about could have [an] even more serious foundation and so that Georgia does not become a barrel with gunpowder that can explode this entire region at any point," Nesterenko said.
He did not name a specific country in his allegation. However, U.S. ships carried aid to the republic -- an ally -- after last month's conflict between Georgia and Russia.
EU foreign policy chief Javier Solana said that member nations were preparing to send hundreds of civilian monitors to Georgia to verify whether Russian forces were complying with a cease-fire agreement, The Associated Press reported.
He said the observers would be deployed initially across areas controlled by Georgian forces.
"We would like to have the ... mission deployed soon," Solana said, adding he hoped EU nations approve the plan in the coming weeks.
Russia has remained defiant despite a wave of diplomatic pressure from the West, President Dmitry Medvedev and Prime Minister Vladimir Putin rejecting criticism of the country's recognition of South Ossetia and Abkhazia as independent states.
Meanwhile, a human rights group said Georgia had admitted dropping cluster bombs in its military offensive to assert control over South Ossetia, The Associated Press reported.
Human Rights Watch said it had received an official letter from Georgia's Defense Ministry that acknowledged use of the M85 cluster munition near the Roki tunnel that connects South Ossetia with Russia.
E-mail to a friend

CNN's Bridget Fallon contributed to this report.
Copyright 2008 CNN. All rights reserved.This material may not be published, broadcast, rewritten, or redistributed. Associated Press contributed to this report.
All About South Ossetia • Abkhazia • Russia • Republic of Georgia