(CNN) -- Spanish police announced Friday the arrest of one of the most sought-after narcotraffickers in the world, Edgar Guillermo Vallejo Guarin, also known as "Beto the Gypsy."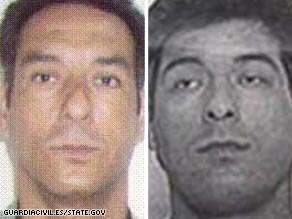 Edgar Guillermo Vallejo Guarin on his wanted posters.
Vallejo Guarin was arrested outside a luxury hotel in central Madrid with the collaboration of the U.S. Drug Enforcement Administration, the Spanish Civil Guard said in a news release.
Vallejo Guarin has a long history of violence, involvement in money laundering of drug funds and corruption of high-level government officials, the release said.
Among the nations seeking him was the United States, which had offered a $5 million reward to anyone who helped bring about his capture.
He was also on the U.S. State Department's Most Wanted list.
In June 2001, he was accused in Florida of being a principal source of cocaine smuggled from Colombia into the United States throughout the 1990s.
"He is responsible for the shipment of a multitude of tons of cocaine via ship to the United States (especially the west coast of Florida and Miami) and Europe," the release said.
In addition, he is suspected of being linked to various assassinations, it said.
It said that, when he was arrested near the hotel, Vallejo Guarin was carrying false identification documentation that identified him as Jairo Gomez.
Vallejo Guarin's permanent residence was in a suburb of Barcelona, but he had been moving among a number of hotels in Europe and Venezuela in an apparent attempt to avoid arrest, the release said.
E-mail to a friend