(CNN) -- Juliet Davenport is the Oxford University-educated chief executive and founder of Good Energy, a 100 percent renewable electricity supplier in the UK. When she participated in the Principal Voices project in 2007, she talked about the need to embrace renewable energy.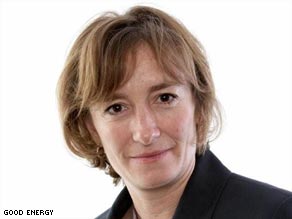 Good Energy chief executive and founder Juliet Davenport
One year on, she tells CNN about today's green energy market.
CNN: At the Principal Voices debate in 2007, you talked about the importance of alternative energy. How would you describe the change in the market since?
Juliet Davenport: There has been quite a lot of change. There have been a number of breakthroughs in technology, such as solar power technology. People are far more ready to implement it. Other technologies like the dual power pump are also [gaining prominence].
CNN: The global economy has taken a downturn. Why should people pay more for greener electricity?
JD: That's just a part of what we do. We started out as a green electricity supply company, but now it is like joining a club. We provide other services; we show people how to generate their own power... but now we're like an essential hub or a port of call.
CNN: What must be done to combat global warming?
JD: A lot of governments have the big development policies in place -- at least governments in Western Europe and the U.S. do. Things like financial support are in place. It's the smaller issues that need to be tackled. But here in the UK, planning is a big issue. In China, it's difficult to go off grid.
CNN: Have you kept in touch with the people you met through the Principal Voices project?
JD: Yes, I've kept in touch with a couple of people from CNN; some of them I had known previously. I also came in touch with environmental organizations in China. We worked together straight after the meeting, but I'm not in touch with the higher ups in China anymore.
CNN: What are the projects you have been involved the past year?
JD: We were working on the project in China. Working in one place you tend to get stuck, so working on such a project gives you a different perspective. We have also introduced a new project.
We just launched the Good Energy Shop on September 1, which teaches householders what they can do to reduce energy consumption. We are also teaching them how they can make their own energy -- what they can do and what we have done. In fact, our Web site has already seen an increase in traffic because of the section on home heat generation.
E-mail to a friend