By CNN's Mairi Mackay
LONDON, England (CNN) -- Cosmologist, theoretical physicist and author, Stephen Hawking is possibly the world's greatest living scientist.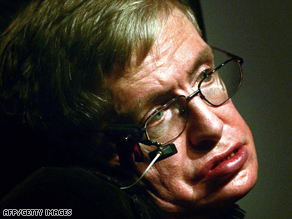 Submit a question for scientist Stephen Hawking and we will put the best to him on "The Spirit of Space" in October.
Certainly, he is a preeminent authority on all things space-related. This is the man, after all, who once said: "My goal is simple. It is a complete understanding of the universe."
It is this drive to get a better grasp on the laws which govern the universe that has informed Hawking's research since the early days when he was a research fellow at Cambridge University in the UK.
One of his great achievements since then, together with mathematician Roger Penrose, has been to prove that Einstein's General Theory of Relativity means space and time has a beginning in the "Big Bang" and ends in black holes.
In 1998, Hawking published "A Brief History of Time," a layman's guide to the origins of the universe. The popular science book, which is aimed at helping the general public to answer questions like, "Where did the universe come from?" and "Will it end and if so, how?" is a best-seller and has since become a modern classic.
As part of next month's "The Spirit of Space" show we are interviewing Hawking and giving Web site users the opportunity to submit a question to the professor.
Please put forward your short and space-related questions in the Sound Off box below. We will put the best to him, and air his responses on "The Spirit of Space" in October.
The Spirit of Space will air at the following times in October:
Thursday 9 October: 1300, 1730
Saturday 11 October: 0700, 1730
Sunday 12 October: 0300, 0730, 1300
E-mail to a friend