(CNN) -- Robert Conway is the CEO of the GSM Association, which comprises over 800 GSM mobile phone operators, manufacturers and suppliers from across the world.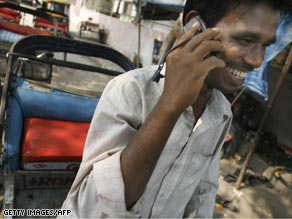 In countries such as India, efforts have led to reduced phone costs and basic services are offered at lower revenues
He participated in the Principal Voices debate in 2005 and talked about how technology impacted development across the world and the role mobile phone technology played.
Three years on, CNN caught up with Robert Conway and asked whether there's been any shrinking of the digital divide.

CNN: Did your experience at the debate lead to new opportunities for you and GSMA?
Robert Conway: The Principle Voices debate in 2005 came at a fascinating time, when the potential of mobile communications as a driver of social and economic development was not as widely understood as it is today. Then, the industry had just connected 1.5 billion people, and the focus was on how to connect the next billion and beyond by extending the benefits to more people in emerging economies. Read Robert Conway's white paper
One of our challenges at the time was to overcome the perception that mobiles were luxury items; that they could help 'bridge the digital divide' faster and more effectively than fixed line telephony to serve low income groups with basic, cost effective, yet sustainable communications.
In the intervening years, a huge difference has been made by the efforts of the mobile industry to eliminate barriers to access through innovation and the achievement of scale. This led initially to vastly reduced mobile phone costs ($30 and less today) and then new business models, with operators providing basic services at lower average revenues per user, such as in India.
There is still much to be done, but remarkably today, we can see that the vast majority of the second and third billion mobile phone users have come from developing countries, and 80% of new connections today are from these regions.
The debate at the time helped us hear the perspectives of representatives from NGOs, charities and others and emerging market experts who were clearly supportive of the potential for mobile.
CNN: This year GSMA coordinated the expansion of mobile phone services on Lake Victoria -- how badly was it needed?
RC: The expansion of mobile coverage across Lake Victoria will extend an important lifeline to the thousands of people who depend on the lake for a living -- where sadly up to 5,000 people currently die each year due to accidents and piracy.
The GSMA's Development Fund, along with our project partners Ericsson and local operator Zain, spent six months investigating how to provide better communications for 30 million people in Tanzania, Kenya and Uganda who live near the lake. Apart from potentially reducing the number of fishing related deaths each year, the program will also fuel the economic and social development of the lakeside communities.
The work of the GSMA's Development Fund is hugely important, as the mobile industry's principle contribution to closing the digital divide, the gap between technologically advanced countries and developing nations. Through the fund we focus on action, on running pilot projects that will hopefully lead to commercial scale ups and we focus on catalyzing markets and incubating ideas.
CNN: In 2005, you spoke of the ability of mobile phones to "kick off the cycle of economic development." Do you still hold that view?
RC: Since the debate in 2005, we have through research been able to provide tangible demonstration of the impact of mobile communications which connects buyers and sellers, fueling economic activity. As the number of mobile users grows, so too will economic prosperity, creating a virtuous circle that further increases demand for mobile services. A study by consultancy Deloitte for the GSMA found that an increase of 10 percentage points in mobile penetration in a developing country can increase the annual economic growth rate by up to 1.2 percentage points. Given that most economies only grow a few percent each year, this is a substantial impact.
The global mobile industry has also demonstrated a track record of investing in developing countries even when they are wracked by problems. Mobile operators were among the first companies to begin operating in Afghanistan following the overthrow of the Taliban, for example, and in Iraq after the downfall of Saddam Hussein.
Similarly, mobile operators have set up networks in the world's most impoverished countries. Burundi, Liberia, the Democratic Republic of Congo and Sierra Leone are all now served by at least three mobile operators. Even in places where economic hardship or political unrest is a fact of daily life, there is clearly demand for mobile services.
CNN: How important is it that any projects the foundation is involved in are sustainable?
RC: The 2005 debate centered on the question of charity versus sustainability and the long term impact of these approaches. The GSMA's Development Fund clearly takes the latter approach and it is proving time and again to be a highly effective model in serving communities we work with.
Take Bangladesh for example, where a pilot scheme to provide Communication Information Centers (CICs) based on shared access to mobile data for communities has led to the roll out of more than 600 of these centers, run by young, local entrepreneurs. This philosophy of doing good by doing good business is very much the approach we take with the Development Fund.
E-mail to a friend