From Charley Keyes
CNN
WASHINGTON (CNN) -- The United States on Wednesday criticized Russia for failing to live up to the cease-fire agreement in Georgia and for refusing to remove its military forces.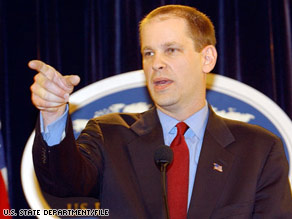 U.S State Department spokesman Sean McCormack says the Russians "need to get out of Georgia."
"Look, these guys are trying to, at every turn, trying to wiggle out of a commitment that they made and that their president put his name to," State Department spokesman Sean McCormack said at his morning briefing. "We've seen it since August and it continues. They need to get out of Georgia and they need to stop finding excuses to do that."
McCormack said the Russians have talked about leaving 3,800 troops in both of the breakaway regions of South Ossetia and Abkhazia, far more than the number there before hostilities broke out between Georgian and Russian forces in South Ossetia in early August.
"That, of course, would be a violation of the cease-fire that they signed in August," McCormack said. "Russia and their government and their troops need to abide with their international commitments -- bottom line."
The cease-fire agreement called for a return of Russian troops to their status before the outbreak of fighting.
Earlier Wednesday, a Georgian policeman was fatally shot near a Russian checkpoint inside Georgia, Georgia's Interior Ministry said.
The policeman was in the village of Karaleti just a few hundred meters south of a Russian checkpoint, and the shooting came from the direction of the checkpoint, the ministry said. The location was about 12 miles (20 km) south of the South Ossetia line, it said.
Russian officials told Georgian officials that Russians were not responsible for the death and that the perpetrators might have been South Ossetians, the Georgian Interior Ministry said.
Georgian officials said they asked the Russians to let them into their checkpoint to investigate the shooting but were denied permission.
Georgia has called for an investigation by a third party, such as the European Union or the Organization for Security and Co-operation in Europe. Georgian officials also said they would like to conduct a probe themselves.
E-mail to a friend

All About Russia • Republic of Georgia