(CNN) -- "The moon's been there for about four billion years and it's moving further and further away from the earth. And it's been a destination or quizzical thing for humans for thousands of years, centuries; it's been something that you dream about." -- Astronaut Buzz Aldrin on "The Spirit of Space."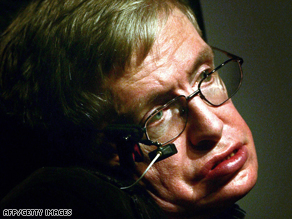 On the fiftieth anniversary of NASA, we speak to eminent space expert, Stephen Hawking.
As NASA celebrates its fiftieth anniversary, "The Spirit of" takes a look at space. We will examine whether space exploration has progressed as quickly as it could have -- and take a look at what we can expect in the future.
The show will also feature an exclusive interview with world-renowned scientist and space expert, Stephen Hawking who we will be asking questions suggested by our Web site users. Click here to ask Stephen Hawking a question
Part one of the show will include interviews with NASA Director Dr Michael Griffin, Hubble expert Dr Ed Weiler and one of the first men on the moon, Buzz Aldrin. It will also include a report from CNN's Space Correspondent Miles O'Brien who has been training with the Hubble astronauts.
It will also feature an interview with Owen and Richard Garriott. Owen was an astronaut and his son is about to complete his training at Moscow's Star City prior to embarking on his first space flight.
In part two, we will focus on how Europe is faring in the "Space Race." It will feature interviews with European Space Agency Director General, Jean-Jacques Dordain and with ESA's Director of Human Spaceflight and exploration, Ms Simona di Pippo.
In the final part of the show we will be looking at space tourism through the eyes of hopeful space tourist, scientist Stephen Hawking.
E-mail to a friend