MOSCOW, Russia (CNN) -- Russian peacekeepers are withdrawing from five checkpoints in western Georgia where they have been since the conflict between the two countries broke out last month, the Russian Foreign Ministry said Saturday, according to the Interfax news agency.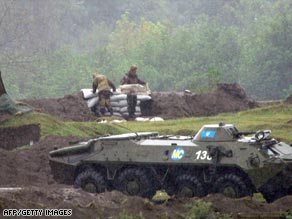 Russian soldiers pack up their gear at the Georgian checkpoint in Poti on Sept. 11.
Foreign Ministry spokesman Andrei Nesterenko said the peacekeeping forces will be withdrawn over the next seven days from five spots between the port city of Poti and the town of Senaki farther inland, Interfax said.
Nesterenko said the move was in line with Russia's agreement this week to completely withdraw from Georgia, with the exception of the two disputed territories of South Ossetia and Abkhazia.
The agreement came after French President Nicolas Sarkozy traveled to Moscow and met with his Russian counterpart, Dmitry Medvedev.
The September 8 agreement also called for 200 international monitors to be deployed to South Ossetia.
Russia said Saturday, however, that its forces would remain in a "security zone" around South Ossetia and Abkhazia -- a zone that is actually inside Georgia.
Russian Prime Minister Vladimir Putin said the goal of remaining in the zone is to prevent Georgia from launching any offensive in the territories, and that Russia expects the international monitors to take over responsibility in the zone once they arrive.
"If that is done, Russia will honor all of its obligations" and withdraw from the security zone, Putin said in an interview in the French newspaper Le Figaro. "But it is necessary that the European Union also fulfills its obligations."
The conflict began in early August after Georgia's military moved to secure South Ossetia, sparking the intervention of Russia, which pushed its troops deep into Georgia proper. Some Russian troops have remained in Georgia ever since.
E-mail to a friend

All About Russia • Republic of Georgia • European Union • Organization for Security and Co-operation in Europe