BERLIN, Germany (CNN) -- Five German tourists held hostage in Egypt for 10 days arrived back in Germany on Tuesday, the German government announced.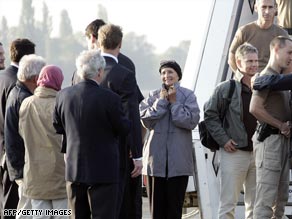 German tourists arrive back home after their kidnapping ordeal.
German officials greeted the former hostages after they arrived in Berlin on a special Lufthansa flight from Egypt, the Interior Ministry said. The officials expressed their relief at the tourists' safe return, the government said.
The five Germans were among 11 European tourists kidnapped in southern Egypt, along with eight Egyptian guides, drivers, and guards. Five Italians and one Romanian were also part of the group.
The hostages were released unharmed Monday after a coordinated operation between Egyptian and Sudanese forces, the Sudanese news agency SUNA reported, citing the Sudanese Ministry of Foreign Affairs.
The kidnappers were Sudanese and Chadians, and a document found with the abductors showed they belong to the Sudanese Liberation Movement, a rebel group fighting against the Sudan government in Darfur, said ministry spokesman Ali Yousif.

Watch as hostages return home »
Egyptian Tourism Minister Zoheir Garana said no ransom was paid.
The group was taken in Wadi al-Gadid, about 400 kilometers (250 miles) west of the southern Egyptian city of Aswan. They were traveling in four off-road vehicles and were apparently taken to nearby Sudan during their ordeal.
E-mail to a friend