(CNN) -- At 51 years of age, Polish prime minister Donald Tusk has come a long way. As part of the Kashubian minority living in the Gdansk Region, he was born to working-class parents -- his father a carpenter and his mother a nurse.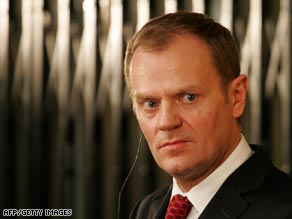 Polish Prime Minister Donald Tusk was elected in November 2007.
As a student of History at the University of Gdansk in the late 1970s, a period of growing discontent with the Communist regime in Poland, he became actively involved in the creation of the opposition Students' Solidarity Committee. This was founded in reaction to the murder of student activist Stanislaw Pyjas by the State Security Service.
Despite his anti-communist activities, he successfully finished his studies in 1980 and joined the Independent Solidarity Trade Union movement.
When the Communists imposed martial law in 1981 he continued with his underground activities, writing pamphlets about the ideas of liberal economist Friedrich Hayek and the concept of private property. His heroes became former U.S. president Ronald Reagan and British prime minister Margaret Thatcher.
With the fall of Communism in 1989, the Solidarity Movement splintered. Lech Walesa, the former Solidarity Leader was elected President, while Tusk went on to co-found the KLD (Liberal and Democratic Congress Party) with other well-known figures. The Party stood for among other things: free market economy, privatization, individual freedom of Polish citizens and Polish accession to the EU.
The following year, during the 1991 Parliamentary elections, the KLD won 37 seats in the lower house of the Polish Parliament. Not being able to follow up on their success in the 1993 elections, the KLD merged with the larger Democratic Union Party (UD) to form a new party called Freedom Union (UW).
Tusk soon became Deputy Chairman and in the 1997 elections, he was voted into the Senate.
In 2001, Tusk formed the Civic Platform Party (PO), winning seats in that year's parliamentary elections and becoming Deputy Speaker in parliament.
But the Civic Platform was not able to sustain its success in the 2005 elections. Tusk and his party lost both the presidential and parliamentary elections to Lech Kacczynski's PiS (Law and Justice Party). This setback was not to last as Tusk triumphed over Jaroslaw Kaczynsky's PiS in the October 2007 elections and became prime minister of Poland.
Tusk's economic policies are pro-business: less bureaucratic hurdles and state interference making it easier for entrepreneurs to start businesses. He is also trying to woo back more than a million Poles who left the country to work in other European Union countries after it joined the EU in 2004.
Tusk is a keen footballer, viewed in his youth as a promising striker. He is married to historian Malgorzata and has two children, Kasia and Michal.
E-mail to a friend

All About Poland • Warsaw • Lech Walesa