(CNN) -- Two Frenchmen and a German won the 2008 Nobel Prize in medicine for their discoveries of viruses that cause HIV and cervical cancer, the organization's Web site said Monday.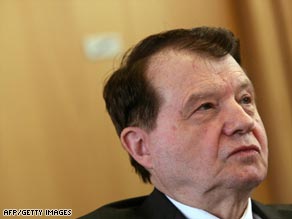 Luc Montagnier will split the $1.4 million prize with two others.
Francoise Barre-Sinoussi and Luc Montagnier of France were honored "for their discovery of human immunodeficiency virus." The pair are recognized as the discoverers in 1983 of the virus that can expose people to AIDS.
Both have been involved in breakthroughs in screening for HIV and efforts to develop a vaccine against the virus.
Harald zur Hausen of Germany was cited "for his discovery of human papilloma viruses causing cervical cancer" in women.
The Nobel Laureates in medicine will receive their awards in Stockholm, Sweden on December 10. They will split the the $1.4 million prize.
The awards' Swedish founder, dynamite inventor Alfred Nobel, created the prizes in the categories of medicine, physics, chemistry, literature and peace. Another award is made for economics.
The prizes include the money and an invitation to the prize ceremonies in Stockholm and Oslo on December 10, the anniversary of Nobel's death in 1896.
The winner of the most prestigious of the awards, the Peace prize, is expected to be announced on Friday. Last year former U.S. Vice President Al Gore shared the honor with the United Nations for raising climate change awareness.
E-mail to a friend