By Robin Oakley, CNN European Political Editor
(CNN) -- Some say Poland is the biggest of the "small countries" in the European Union. Others call it the smallest of the "big countries."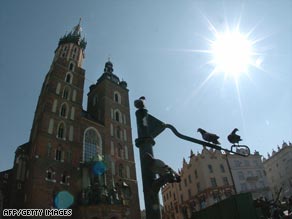 Poland: Fast becoming one of Europe's most exciting countries, says Oakley.
Poland may not yet be one of the '"Big Five" alongside Germany, France, Britain, Italy and Spain. But when it entered the EU in 2004 its population of nearly 40 million totalled more than all the other nine entrants of that year.
Poland was a crucial "catch" for the EU's enlargement program, its arrival boosting the bloc's self-confidence at an uncertain time. And Poland has swiftly proved it can more than punch its weight diplomatically.
Poland was the last country to settle in the fraught negotiations over the EU's latest seven-year EU budget. It was also the last country to agree the constitutional deal in the battle over the now-frozen Lisbon Treaty.
By offering, along with the Czech Republic, to host installations for the U.S. missile defence plan, now officially a NATO plan, Poland has become a crucial focus for the EU's relations with Russia.
By spearheading efforts to bring countries like Ukraine and Georgia closer to the EU and NATO, Poland has become the unofficial cheerleader for those who would like to free themselves from Moscow's dominance.
With growth at around five per cent Poland is too becoming a significant economic force in the region, with many of those who went abroad to work in Britain and Ireland now returning to help meet the demands of their own country's construction boom.
It is no surprise than an ARCO Insight survey last month found that movers and shakers in Brussels reckoned Poland to be the most effective of the 12 latest entrants in influencing EU policy.
In Poland's relationship with the EU, certainly after Donald Tusk's pro-business, pro-EU Civic Platform party was victorious in last year's elections against the Law and Justice party of the Kaczynsky twins, the benefits have been mutual.
Poland has learned to rub along much better, for example, with its powerful neighbor Germany. But it has also formed a useful practical alliance with Sweden in pushing for the interests of the Baltic region.
If the relentlessly headline-grabbing Nicolas Sarkozy, the French President, is currently the most interesting politician in Europe then the fast-evolving Poland is rapidly becoming the most interesting country in Europe, mixed up in almost every political battle that matters.
Should Ukraine and Georgia, for instance, be admitted to NATO and EU membership? France and Germany might have their reservations but Poland is right out there in the front line urging their acceptance.
And what about relations with Russia? Moscow blames Warsaw and "the Baltics" for Brussels being much more aggressive, contesting its determination to retain a "sphere of influence" in countries of the former Soviet Union.
Poland's agreement to play host to the anti-missile battery of the missile defence plan has angered Moscow and led to some blood-curdling threats from the Russian military that it will by doing so become a target for Russia's own missiles, a much more tangible danger than some putative future threat from Iran.
But you would not want to play poker with Radek Sikorski, the Polish Foreign Minister. Having some years ago as defense minister begun the missile site negotiations, he quit the Kaczynskys' party and government because they were not prepared to fight for enough in return.
The price he and Civic Platform's leader Donald Tusk have been determined to extract was significant U.S. help in modernizing and re-equipping Poland's army. They wanted to be given their own Patriot missiles as protection against what they saw as a much more real danger -- an aggressive regime in Moscow.
Fearful that this would be seen by Moscow as the threat they were denying the anti-missile plan was, the U.S. said no. Warsaw held out.
The U.S. threatened to go and site its battery in Lithuania instead. Warsaw held out.
Condoleezza Rice came to Europe and signed the deal with the Czech Republic for their part of the missile program. Warsaw held out.
Then came the invasion of Georgia. More leverage for Radek Sikorski. And within days Washington said yes. The Poles are getting their Patriot missiles and their military spending.
But meanwhile they have been canny enough to keep talking to Moscow and offering free access to the site for Russian officials. And while Russian generals utter their threats Sergei Lavrov, the Russian Foreign Minister, says: "We do not see Poland itself as a source of threats to the Russian Federation. We don't agree on everything , but we appreciate dialogue."
Quietly, the Russian ban on Polish meat exports has been lifted, the Polish blocking of Russian membership of various diplomatic clubs has been dropped.
Of course Poland is not a country without problems. The infrastructure improvements needed for a modern economy are lagging woefully. There must be a real question whether Poland (and Ukraine) will be ready to co-host the European Cup in 2012. Would-be investors of foreign capital say the lingering bureaucracy of the communist years is not being unwound fast enough.
If and when the Nordstream project to take Russia's gas under the Baltic direct to Germany without passing over Polish territory comes to fruition Poland will be at risk of energy blackmail.
But what Poland has got is a raw human energy, a population of comparatively high technical education levels and a determination to fight for a better and independent life which goes with having had the occupying troops of others in their country for 80 percent of the last 200 years. This is a country on the move.
E-mail to a friend