(CNN) -- The Russian Foreign Ministry said Monday that "some forces in Tbilisi" are trying to provoke new violence in Georgia.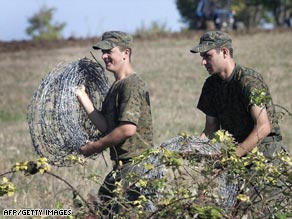 Georgian soldiers on Sunday remove barbed wire at a former Russian outpost in Georgia.
In a statement published on its Web site, the Foreign Ministry cited a car bomb explosion on Friday that killed seven servicemen in the city of Tskhinvali in the breakaway region of South Ossetia; the fatal shooting Sunday from the Georgian side of a construction company employee in Tskhinvali; and the detonation on Monday of a bomb near Russian peacekeepers who were pulling out of a security zone near Abkhazia, another breakaway region.
"The deterioration of the situation in the Transcaucasia is causing deep concerns," the statement said.
Despite the violence, an agreement reached by French President Nicolas Sarkozy and Russian President Dmitry Medvedev calling for the withdrawal of Russian forces from Georgia by October 10 appeared to remain intact.
"We are fully determined to implement the agreement," the statement said, but it added that Russia was counting on the European Union to guarantee that Georgia would not use force.
The Associated Press reported the Georgian Interior Ministry has blamed Russia for at least some of the violence, contending that it was intended to provide justification for Russia to keep its troops in Georgia.

Watch how car bomb blast killed seven »
Moscow's recognition of South Ossetia and Abkhazia as independent regions came after a conflict that began August 7, when Georgia's attempt to retake South Ossetia was met by Russia's sending its tanks to the province and pushing out Georgian forces.
E-mail to a friend

All About Republic of Georgia • South Ossetia • Russia