By Mike Steere
For CNN

LONDON, England (CNN) -- It's your turn to tell us at CNN who you think the great leaders of 2009 will be.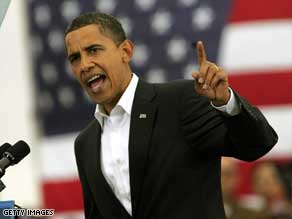 On the rise? Can Barack Obama win the U.S. Presidential election and become a great leader of 2009?
Next year is likely to be a time of ongoing financial difficulty as the world seeks to steady the current crisis of confidence in the banking and credit sector.
At the same time the continued threat of extremists presents potential dangers across the globe, while the after-effects of the conflict between Georgia and Russia will undoubtedly still be felt.
There will be a new President of the United States of America, and many other countries could see a change in leadership.
In addition to this there are issues of African poverty, global warming, security issues in the Middle East, and the fight to prepare all nations for any future natural disasters. Let's not forget - the United Nations has estimated more than 220,000 people have died in earthquakes, floods, hurricanes and typhoons to date this year.
So, in this time of economic, natural and political uncertainties -- who do you think will rise up to become the greatest leader of 2009?
Give us your predictions in the Sound Off box below and we'll publish the best.
E-mail to a friend