LONDON, England (CNN) -- Jimmy Wales began the successful peer-reviewed encyclopedia Wikipedia in 2001.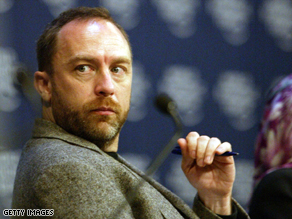 Wikipedia founder Jimmy Wales
In 2007, he participated in Principal Voices and talked about the need for free access to information, fueled by the open-source approach, which would eventually make global knowledge available to all.
We caught up with Wales to talk about Wikia Search and the Internet in the future.
CNN: In your whitepaper for Principal Voices, you talked about making "the sum of all human knowledge" free for all. How does this apply to your search engine Wikia Search?
Jimmy Wales: In order to be able to have free access to all human knowledge, and remember than I mean free as in 'free speech,' not just free as in 'free beer,' we need a high quality open source search engine with the editorial control in the hands of an open community. When search is proprietary and closed, editorial decisions are made behind closed doors. I think there's a better way.
CNN: Will there be a change in the way the Internet works? What will it be like?
JW: I think that in the future the democratization of the media will continue. Peer to peer is the future, broadcast is the past. By 'peer to peer is the future' I mean communications hierarchies are breaking down -- rather than getting information from broadcast media operating in a centralized fashion, we will get information from each other in a networked fashion. We see examples of this all around us -- from blogs to email to wikis. Not many people have understood the implications of this, yet.
CNN: Now that you have launched Wikia Search, what's next?
JW: Ha, I'm busy enough right now. My daughter wants me to help her build an online multiplayer game in my spare time. We'll see. I'll try to always keep doing things that are interesting.
CNN: Did your experience on Principal Voices produce any ideas or partnerships you've since put into action?
JW: The experience was inspirational and I met a lot of very interesting people, especially at the Boston event. I hope to work with them in the future.
E-mail to a friend