By Mike Steere
For CNN

LONDON, England (CNN) -- In November we step inside the world of design as show host Becky Anderson searches for the Spirit of Architecture.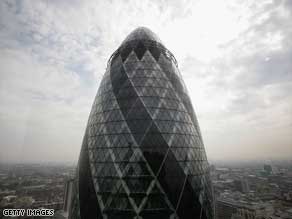 The "Gherkin" designed by Norman Foster is one of the most familiar features on London's skyline.
In late October, Barcelona hosts the World Architecture Festival during which the great and good will attempt to choose the best building in the world.
CNN will get exclusive access to the event, the nominations, and the jury which includes some of the world's greatest architects.
The program will start with an explanation of Barcelona's unique architectural heritage. It will then feature short pieces on six of the architects and the buildings that have been nominated for awards. These profiles have been filmed in Mumbai, Tokyo, Pretoria, Munich, London and Maryland.
The program will also feature interviews with some of the world's leading architects including Lord Norman Foster, Zaha Hadid and Wolf D Prix.
Foster is the founder of the London-based Foster and Partners architecture company which has recently won a competition to build Virgin Galactic's New Mexico Spaceport Authority Building for space tourism.
In September 2007, Foster was awarded the Aga Khan Award for Architecture, for his efforts on the Petronas University of Technology, Bandar Seri Iskandar, Malaysia.
Hadid meanwhile has won numerous international architecture awards and is currently involved in the construction of a 17,500-seat aquatics centre for London -- one of the venues being built for the 2012 Olympics.
Finally, the Austrian-born Prix, who founded top company Coop Himmelb(l)au is a legend of the architecture world. Prix has scooped many of the top international architectural awards over the last quarter century, and today continues his active involvement in the world of design.
Once we have taken you through the festival highlights, at the end of the program the best building in the world will be chosen and we will interview the winning architect.
E-mail to a friend