MADRID, Spain (CNN) -- One of Osama bin Laden's sons has asked Spain to grant him asylum, a spokeswoman for Spain's interior ministry said Tuesday.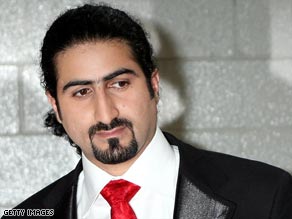 Omar bin Laden pictured earlier this year during a television interview in Rome, Italy.
Omar bin Laden, who is in his late 20s, stepped off a plane at Madrid's airport during a stopover late Monday and asked to stay, the spokeswoman said.
Omar bin Laden has publicly called on his father to abandon terrorism.
He was preparing his formal asylum request Tuesday at the airport with the help of a translator, the spokeswoman said.
The Interior Ministry, which will have 72 hours to reply to the request once it's filed, will seek the opinion of the United Nations High Commissioner for Refugees (UNHCR) on the matter, she said.
It was not immediately known what grounds Omar bin Laden would be giving for his request.
His flight on Monday originated in Cairo, Egypt, and landed in Madrid on its way to Casablanca, Morocco, she said. The request caught Spanish authorities by surprise, she said.
Omar bin Laden, who is married to a British citizen, previously was denied asylum in Britain. He holds a Saudi passport.
If Spain agrees provisionally to Omar bin Laden's asylum request, he will be given an identity card and allowed to leave the airport. The final decision on whether to make his asylum permanent could take weeks or months after that, the spokeswoman said.
Don't Miss
If Spain denies his initial request, he would have 24 hours to appeal before he is put on a plane back to Cairo, the spokeswoman said.
Last year, 7,664 people requested asylum in Spain, but the government granted that status to just 570 of them, the spokeswoman said.
In an interview with CNN earlier this year, Omar said he wanted an end to the violence his father has inspired -- violence that has killed innocent civilians in a spate of attacks around the world, including those of September 11, 2001.
"I try and say to my father: 'Try to find another way to help or find your goal. This bomb, this weapons, it's not good to use it for anybody,' " he said in English learned in recent months from his British wife.
He added that he hasn't spoken to his father since 2000, when he walked away from an al Qaeda training camp in Afghanistan with his father's blessings.
He claims not to know where his father is now.
E-mail to a friend

-- CNN's Al Goodman in Madrid, Spain contributed to this report.
All About Osama bin Laden