By CNN Correspondent, Fred Pleitgen
BERLIN, Germany (CNN) -- An entertainer chanted the James Brown lyrics: "I feel good, I knew that I would," outside Berlin's Babylon theater, the venue for the Obama Election party organized by the Democrats abroad.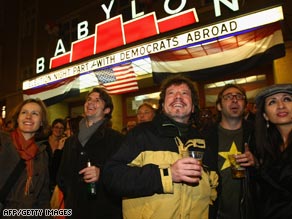 Celebrations outside the Babylon theater in Berlin.
And many on the sidewalk joined in.
Hundreds of German and American Obama supporters stayed up through the night to see their candidate take the White House in this memorable election.
In virtually every poll conducted in this country before the election, more then 80 percent of those asked said if eligible, they would choose the Illinois senator.
"We want to have a president we can love again," a German Obama supporter told me, and that seems to describe the mood in this country pretty accurately.
Germans admire the United States, they are grateful for America's support rebuilding Western Germany after World War II, for the protection the U.S. offered this country during the Cold War, and its instrumental role in the unification process.
Many Germans feel true and deep emotions for the U.S. and many felt betrayed by George W. Bush's government especially in the run up to the Iraq War, when then Secretary of Defense Donald Rumsfeld referred to Germany as part of "Old Europe."
Don't Miss
Germany wants to love America again, and German politicians were quick to announce their support for the president elect.
"I'm convinced that through a close and trusting co-operation between the United States and Europe we will be able to confront new risks and challenges in a decisive manner and will be able to take advantage of the numerous opportunities that are opening up in our world," German chancellor Angela Merkel said in a statement Wednesday morning.
Her foreign minister and rival in the upcoming elections, Frank-Walter Steinmeier, sang the same tune: "We all remember his big speech which he made here in Berlin. A speech in which Barack Obama promised to inject new life into the transatlantic partnership," Steinmeier said.
On July 24, with an enthusiastic crowd of about 200.000 Berliners cheering him on, Barack Obama delivered a major foreign policy speech right in the heart of the German capital.
Obama used the historic venue to outline his plans for a new partnership between the U.S. and Europe, saying "no nation, no matter how powerful," could defeat today's challenges alone.
That was music to the crowd's ears and here in Germany, but there were also parts of his speech that troubled German politicians. "No one welcomes war. I recognize the enormous difficulties in Afghanistan. But my country and yours have a stake in seeing that NATO's first mission beyond Europe's borders is a success," Obama said.
With those words Obama made clear the new partnership would also bring heavy burdens with it.
For more then a year, Angela Merkel's government has been resisting pressure from Washington to expand its Afghanistan mandate. Germany does not want to send combat troops to the volatile southern parts of Afghanistan and possibly see even more German soldiers die in a war which is deeply unpopular with the public.
Will Berlin continue its staunch stance with the new administration, and what could this mean for the "new transatlantic partnership?"
Many Germans refer to Barack Obama as a "new John F. Kennedy," a president they truly loved and admired. But some fear the emotions could fade quickly when the honeymoon ends.
E-mail to a friend

All About Berlin • Germany • Barack Obama