LONDON, England (CNN) -- A Scottish court refused to release convicted Lockerbie bomber Abdelbaset Ali Mohmed Al Megrahi Friday, rejecting his argument that he should be freed because he suffers from advanced prostate cancer, according to a court statement.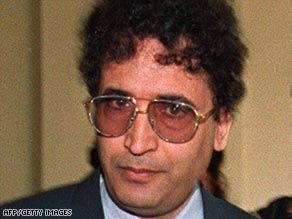 Abdelbaset Ali Mohmed Al Megrahi has been diagnosed with prostate cancer.
The court refused the bail request because Megrahi can receive treatment for in prison, but it left the door open for future appeals.
"There is, it appears, no immediate prospect of serious deterioration in his condition," the court said in a written statement. "The prognosis for (the cancer's) development is at present uncertain. If he responds well to the course of palliative treatment which he has now started, his life expectancy may be in years."
Megrahi is serving a life sentence in Scotland's Greenock Prison for his role in the December 21, 1988, bombing of Pan Am Flight 103 over the Scottish town of Lockerbie. The bombing killed 270 people, including 11 on the ground.
Megrahi continues to maintain his innocence, saying through his lawyer Friday that he had "nothing to do with the Lockerbie bombing (and that the) fight for justice will continue."
Jim Swire, a father of one of the victims and a spokesman for UK Families Flight 103 -- said the court "missed a golden opportunity to display mercy."
"It has never been a goal of our group to seek revenge, and the refusal of a return to his family for a dying man whose verdict is not even yet secure looks uncomfortably like either an aspect of revenge or perhaps timidity," according to Swire's statement, which was read by Professor Robert Black outside the courthouse.
"It's a sad decision," continued Swire. "As I understand it, (Megrahi) has been given an outlook measured in months by two consultants, and to keep him in prison is to deny him access to his family. I can't see how the purposes of justice are served."
Swire acknowledged, however, that Megrahi's release would cause "real distress" for some victims' families.
"It was wonderful news this morning that his bail has been denied," said U.S. victims spokeswoman Kara Weipz. "I know I speak for the American families in saying that we oppose his bail request and (are) very pleased with the ruling this morning."
The sharp differences of opinion among the victims' families are primarily fueled by an ongoing question of Megrahi's guilt. Several of the British families believe new evidence shows Megrahi may have been wrongly convicted.
Don't Miss
Under Scottish law, prisoners with less than three months to live may be freed early on compassionate grounds. Megrahi's lawyer, Tony Kelly, confirmed his client's cancer diagnosis last month.
Megrahi was convicted of the bombing in January 2001. A Scottish court ruled in 2003 that he must serve at least 27 years of his sentence before becoming eligible for parole.
A separate appeal of his conviction is pending. If the judges decided to free Megrahi now because of his medical condition, it would officially be considered "interim liberation" while his other appeal waits to be heard, a prosecution spokeswoman said.
Megrahi was convicted after the prosecution argued he had placed the bomb, hidden in a suitcase, on a flight from Malta to Frankfurt, Germany. There, prosecutors said, the bomb was transferred onto the Pan Am jet that went first to London's Heathrow Airport and then was to continue to New York.
Another man -- Al-Amin Khalifa Fahima -- was also tried in the bombing but was acquitted.
The prosecution maintained that Megrahi, who worked at Malta's Luqa Airport, was an agent for the Libyan intelligence services and had been seen buying clothes that were in the suitcase that contained the bomb.
Libya has formally accepted responsibility for the bombing, though Libyan leader Moammar Gadhafi later denied any culpability.
Last week, Libya completed a $1.5 billion payment to the families of victims of several terrorist attacks, including the Lockerbie bombing.
The final payments -- more than $500 million to settle the remaining claims from the Lockerbie case -- ended Tripoli's legal liability in U.S. terrorism cases and removed the remaining roadblock to full relations with the United States, the U.S. State Department said.
Libya had agreed to pay each of the 268 families involved in the case $10 million, but until last week it had withheld part of the money in a dispute over U.S. obligations to Libya.
E-mail to a friend

All About Lockerbie • Moammar Gadhafi