(CNN) -- A Moscow court has opened a preliminary hearing Monday in the trial of three men accused of being involved in a plot to murder Russian journalist Anna Politkovskaya.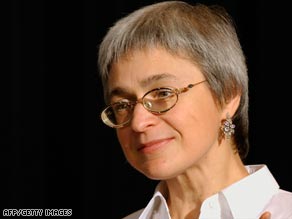 Kremlin-critic Anna Politkovskaya was killed outside her Moscow home in 2006.
Politkovskaya, a Kremlin critic, was shot dead outside her home in the Russian capital on 7 October, 2006.
Prosecutors say the man accused of pulling the trigger, Rustam Makhmudov, has fled the country, The Associated Press reported. The suspects being tried on murder charges are Sergei Khadzhikurbanov -- a former Moscow police officer -- and Makhmudov's brothers, Ibragim and Dzhabrail.
Politkovskaya came to prominence internationally for exposing the brutality of Russian forces and human rights abuses in Chechnya -- extremely embarrassing for former president, and now prime minister, Vladimir Putin.
In 2004, she was a joint winner of the Olof Palme Prize for human rights work.
Her death was described by media reports in Russia at the time as a contract-style killing. A CCTV camera captured a man in a white baseball cap entering the building a few moments before she was shot three times in the chest and once in the head.
According to AP, the Moscow District military court is considering whether to take the rare step of hearing the case in public. Politkovskaya's colleagues and the defendants both spoke Monday in favor of an open trial.
Last month, a prominent Russian human rights lawyer said she and her children became ill after a suspicious substance was found in their car in France.
The incident kept Karinna Moskalenko away from preliminary hearings in the Politkovskaya case in Moscow.
Moskalenko is a lawyer for Politkovskaya's family and for imprisoned former oil tycoon Mikhail Khodorkovsky.
She also represents Russians pressing claims against the government at the European Court of Human Rights in Strasbourg.
Moskalenko told Russia's Ekho Moskvy radio station that her husband found a large amount of a mercury-like liquid in the car they use in Strasbourg.
E-mail to a friend

All About Vladimir Putin • Chechnya