(CNN) -- Shots were fired Sunday near a motorcade carrying the presidents of Georgia and Poland, but the motorcade was not hit and there were no injuries, according to the Interior Ministry of Georgia.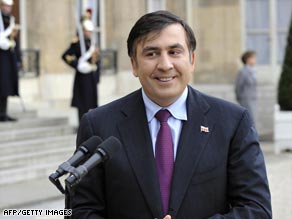 Georgian President Mikheil Saakashvili, shown in France on November 13, called the incident a provocation.
The ministry said the motorcade, which carried Georgian President Mikheil Saakashvili and Polish President Lech Kaczynski, was passing a checkpoint near Georgia's South Ossetia region when the shots were fired.
No other shooting was reported in the area. South Ossetia was the site of intense conflict between Russian and Georgian troops in August.
The shots were fired from Russian-controlled territory as the motorcade passed, the ministry said.
Saakashvili later told reporters the incident "clearly was intended as a provocation."
He said that he would not have taken his Polish counterpart into danger intentionally and that the incident showed "you are dealing with unpredictable people" in the disputed area.
Meanwhile, the Russian news agency Interfax said the command of the Russian peacekeeping force in South Ossetia denied blame for the gunfire.
"Allegations that Russian military personnel were involved in the fire against the motorcade are not true. An attack on the motorcade from our military personnel is out of the question," a peacekeeping force spokesman said, according to Interfax.
The news agency also quoted a senior South Ossetian official as saying that South Ossetia "has nothing to do" with the incident.
"The Georgian side is once again disseminating misinformation," South Ossetian Deputy Defense Minister Ibragim Gasseyev told Interfax.
Tensions have remained high in the area since fighting between Russian and Georgian troops broke out in August.
Georgia launched a campaign against South Ossetia, a Russian-backed separatist territory, on August 7. The following day, Russian tanks, troops and armored vehicles poured into South Ossetia and another breakaway Georgian territory, Abkhazia, advancing into Georgian cities across the administrative borders with those regions.
The two sides blamed each other for starting the conflict and have accused each other of a variety of offenses leading up to and during the fighting, including ethnic cleansing.
E-mail to a friend