(CNN) -- Greenland voted by a wide margin Tuesday for self-governance, setting the stage for independence from Denmark, a government spokeswoman said.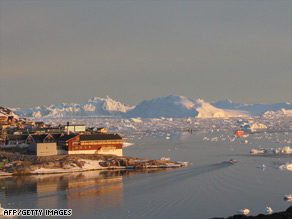 Greenland, which is 80 percent ice, achieved limited home rule from the Kingdom of Denmark in 1979.
By the time vote counting ended at 10:45 p.m., 75.5 percent of voters had said yes to more autonomy, and 23.5 percent said no, spokeswoman Emma Kristensen said in an e-mail.
About 1 percent of ballots were invalid or blank, she said.
Good weather was credited for the turnout of nearly 72 percent of the island's 39,774 registered voters.
In a written statement, Premier Hans Enoksen welcomed the decision and praised Danish Prime Minister Anders Fogh Rasmussen.
"Thank you for opening the doors of opportunity," he said. "You will have a special place in the history of Greenland. Your defense of freedom and your understanding of democracy have played an important role in our achieving self-governance."
The referendum is not binding on Greenland's parliament, but Denmark has said it will honor the results of the vote.
Denmark began colonization of the the frozen, sparsely populated island in the 18th century. It joined the European Community with Denmark in 1973 but withdrew in 1985 over a dispute on fishing quotas.
Greenland won limited home rule from the Kingdom of Denmark in 1979, but Copenhagen continues to run the island's defense and foreign policy.
The island, which is more than three times the size of Texas, is heavily dependent on fishing and subsidies from the Danish government, but retreating Arctic ice may make it more feasible to drill for oil and mine for minerals.
The United States maintains its northernmost Air Force base on the island, a radar and listening post at Thule. Former Secretary of State Colin Powell traveled to Greenland in 2004 to sign an agreement on updating the base, which is staffed by about 125 Americans.
The facility still has a Ballistic Missile Early Warning System installation, able to warn of incoming intercontinental ballistic missiles. Its radar reaches 3,000 miles into Russian territory.
The planned modernization would let the base both detect and intercept missiles, making Thule essential for any U.S. programs to defend against attacks from rogue nations.
Denmark has supported use of the base for missile defense, but Greenland has opposed it.
The base, about 950 miles south of the North Pole, was built in 1951, after a treaty between the United States and Denmark. During the Cold War, fighter jets and bombers capable of carrying nuclear bombs were kept there.
Greenland is the world's largest island -- more than three times the size of Texas -- but has a population of 56,542, about half the size of Charleston, South Carolina.
About 80 percent of the island is covered with ice.
E-mail to a friend

All About Greenland • Denmark • Colin Powell