LONDON, England (CNN) -- The Republic of Ireland has put 45 cattle farms under restrictions amid concerns that dangerous chemicals could have contaminated beef in addition to pork.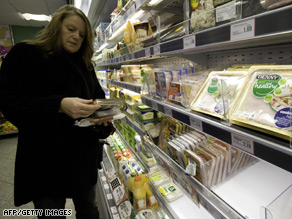 A shopper inspects Irish pork products at a supermarket in Belfast, in Northern Ireland.
The farms "received potentially contaminated feed," the country's Department of Agriculture said in a statement Tuesday.
Officials carried out tests on 11 herds and found three had unacceptably high levels of PCBs, a type of chemical that can cause cancer.
The department insists there is "no public health concern," though it admitted the samples were "technically non-compliant." The other eight herds tested clear, the government said.
Dublin has recalled pork products from all pigs slaughtered in Ireland following the discovery of dioxins this weekend. The government is not naming the beef farms.

Watch more about the recall »
Police are investigating how pork from 10 Irish farms became contaminated with dioxins, Irish authorities told CNN Monday.
The 10 farms were found to have used pig feed sold to them by a company called Millstream Power Recycling Limited in County Carlow in the south of the country, Agriculture Department spokeswoman Martina Carney said. The company recycles other foodstuffs to make meal which is then fed to animals.
The company declined to speak to CNN.
It is not clear if the same company supplied feed to the beef farms under investigation.
Authorities say 490 pork farms have been declared dioxin-free, but the slaughtering of pigs and the sale of pork remain prohibited.
Ireland's Department of Agriculture is working with a meat-marketing organization called Bord Bia to ensure that sales of Irish pork resume by the end of the week. The fresh pork, slaughtered this week, will be labeled with special stickers designed to reassure customers about its safety.
Dioxins are formed by burning chlorine-based chemical compounds, a group that includes PCBs. Most dioxin exposure occurs through diet, with more than 95 percent coming from the consumption of animal fats, according to the U.S. Environmental Protection Agency. Dioxin levels in food are regulated.
Preliminary evidence gathered by Ireland's Food Safety Authority indicated that the contamination likely started in September, the government said in a statement. The agency advised consumers not to consume Irish pork and bacon products for the time being.
E-mail to a friend