ATHENS, Greece (CNN) -- Greek students have called for daily protests starting Monday, 10 days after the police killing of a 15-year-old boy in Athens sparked demonstrations that have thrown the country into turmoil.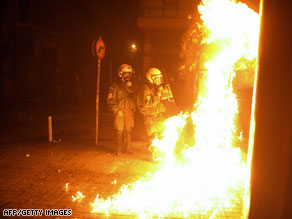 Riot police avoid being hit by a Molotov cocktail thrown by protesters in Athens.
Monday's sit-in is set to take place in front of the country's national police headquarters, with students urging similar demonstrations in front of police precincts across the country.
They have called for roads to be blocked on Tuesday, a demonstration Wednesday outside the courthouse where the police involved in the shooting will be testifying, and a nationwide protest on Thursday.
Authorities are bracing for potential violence following more than a week of riots which have become an outlet for simmering anger about the economy, education and jobs.
The unrest is threatening the government's hold on power, with some opposition groups calling for fresh elections. Stores and international businesses have been attacked, and at least 280 people have been detained by police. Of that total, 176 were arrested, 130 of them over looting.
There was a rash of demonstrations Saturday, the one-week anniversary of the death of Alexis Grigoropolous, including attacks on a police station in the Athens district of Exarchaia and on the environment ministry building by angry protesters with stones and Molotov cocktails.
The main demonstration Saturday was a peaceful candlelit vigil in front of Parliament on Syntagma Square in the capital.
Several thousand people turned out for the demonstration, many of them students but including people of all ages and from all walks of life. Demonstrators held a similar sit-in in the northern city of Thessaloniki.
Some stayed for an all-night sit-in.
There was relative calms in the streets and across the country as Sunday dawned.
The two officers involved in the December 6 shooting were remanded into custody Wednesday pending trial. One is charged with premeditated manslaughter and the other with acting as an accomplice.
E-mail to a friend

Journalist Anthee Carassava contributed to this report.