ATHENS, Greece (CNN) -- Thousands of protesters crowded the streets near the country's parliament building Thursday, hurling petrol bombs as rows of police kept them at bay.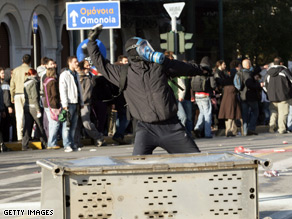 A protester wearing a gas mask throws a small rock at riot police outside the Greek Parliament.
Thursday's demonstrations were another surge in the ongoing street protests that were sparked by the December 6 police killing of Alexis Grigoropolous, a 15-year-old boy in Athens.
Daily protests, including riots, have thrown the country into turmoil and have become an outlet for simmering anger about the conservative government's handling of the economy, education and jobs.
Thursday's protesters were prevented from getting close to the parliament building by a massive line of police who cordoned off the building and shut down adjacent streets.
Some of the protesters threw paint bombs at the rows of police.
Protesters also marched in front of Athens University's historical downtown building, located off the university's main campus. There, police used tear gas to control the crowds.
On Tuesday, dozens of protesters stormed into state television station ERT and interrupted regular programming, taking control of the master control room and unfurling a black banner that read, "Do not watch television. Everyone out on the streets."
Don't Miss
Several went into the office of ERT's president to complain about the network's coverage of the demonstrations.
The escapade occurred despite beefed up security at the network in anticipation of such a move.
The unrest is threatening the government's hold on power, with some opposition groups calling for fresh elections. Stores and international businesses have been attacked, and at least 280 people have been detained by police. Of that total, 176 were arrested, 130 of them for looting.
Of the two officers involved in the teen's shooting, one is charged with premeditated manslaughter and the other with acting as an accomplice.
E-mail to a friend

Journalists John Psaropolous and Anthee Carassava contributed to this report.