From CNN Madrid Bureau Chief Al Goodman
MADRID, Spain (CNN) -- The Basque separatist group ETA is more "isolated" than ever, Spanish Prime Minister Jose Luis Rodriguez Zapatero said late Thursday, ruling out fresh talks with them.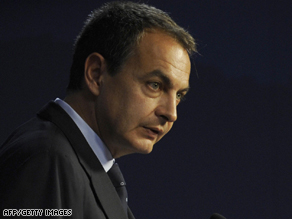 Spanish PM Jose Luis Rodriguez Zapatero
"The end of ETA can be seen only with the push from the rule of law," Zapatero said in a nationally-televised interview with CNN affiliate Cuatro TV.
He said police have arrested 365 ETA suspects in the past two years, including three suspected leaders since last May.
"We are are on a good path. This police efficiency will continue," Zapatero said.
ETA has had "three opportunities" to try to make peace with the government but "they are incapable of not killing," said Zapatero, in ruling out new talks.
ETA is blamed for more than 800 deaths in its 40-year fight for Basque independence.
The European Union and the United States list ETA as a terrorist group.
Don't Miss
Increased Spanish police cooperation with France -- which ETA has traditionally used as its rearguard base -- has resulted in the arrests this year of three top suspects, authorities said.
They include ETA's suspected leader Francisco Javier Lopez Pena, alias "Thierry," last May in France; followed by his suspected replacement, Mikel Garikoitz Aspiazu, alias "Txeroki," last month in France.
The suspected replacement for Txeroki was detained on December 8, also in France. He was identified as Aitzol Iriondo Yarza, allegedly the head of ETA's so-called "commandos," who carry out attacks.
There are about 600 ETA convicts or suspects in Spanish jails and 150 in French jails, authorities in the two countries have told CNN.
E-mail to a friend

All About ETA Separatist Group • Spain • France • Basque Country