ROME, Italy (CNN) -- Pope Benedict XVI reiterated the Roman Catholic Church's opposition to homosexual behavior and warned that humanity could destroy itself.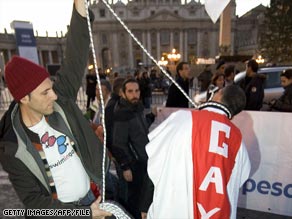 Gay rights campaigners in St Peter's Square, Vatican City, in December.
The pope's year-end message to Church leaders sparked anger among gay and lesbian religious groups.
The Church "demands that the order of creation be respected," the pope said Monday, defining "the nature of the human being as man and woman," according to excerpts released by the Vatican.
Part of the Church's mission is to "protect the human beings against self-destruction," the Pope said in his annual address to the cardinals, archbishops and others who make up the Roman Curia.
The Church has as much responsibility to preserve what it sees as man and woman's God-given roles as it does to protect endangered species, he implied.
"The rain forest deserves, yes, our protection," Benedict said, "But mankind does not deserve it less as a creature."
He did not specifically mention homosexuality in his speech, but his meaning was clear, and gay rights activists criticized the remarks.
"I think the pope is trying to limit God's world view and stands in grave error by doing so," said Marianne Duddy-Burke, executive director of DignityUSA, which campaigns for openly gay, lesbian, bisexual and transgender Catholics to be accepted fully by the church.
"Gay, lesbian, bixsexual and transgendered people represent part of God's creativity, which is beyond any human understanding, including the pope's," she said. "I would challenge the pope to show a little more humility."
She said it was particularly unfortunate that he made the remarks just days before Christmas, but described them as "so in line with other statements from this pope, it's not really atypical."
A papal spokesman issued a clarification after gay rights campaigners responded angrily to the remarks.
"The pope had no intention to offend or attack transgendered" people, Father Federico Lombari said Tuesday. "What the pope meant to say was that in God's eyes, a person is born either man or woman. And to deny this fundamental concept, central to Catholic teaching, is to create confusion.
"If you forget that ... people are born either men or women and together are meant to create children, then you can create negative consequences."
The Catholic Church considers homosexual intercourse to be a sin -- as it does all sex outside of marriage -- but does not consider homosexuality itself to be one.
"Homogenital behavior is objectively immoral, while making the important distinction between this behavior and a homosexual orientation, which is not immoral in itself," the U.S. Conference of Catholic Bishops has said.
The Pope spoke of an "appropriate ecology of man," the Catholic Bishops Conference of England and Wales said. "This is rooted in central Catholic teaching of the dignity of the person. It is a central message for all Christians. It is central to what it means to be human."
E-mail to a friend

CNN's Hada Messia and Alessio Vinci in Rome contributed to this report