BAGHDAD, Iraq (CNN) -- The United Arab Emirates is expected to soon name an ambassador to Iraq and could open an embassy in the war-ravaged nation, Iraqi officials said Thursday.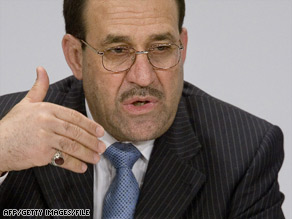 Prime Minister Nuri al-Maliki speaks last week at the International Compact on Iraq in Sweden.
The move would make UAE the first Arab nation to re-establish full diplomatic relations with Iraq since an Egyptian ambassador was killed there in 2005. Shiite-dominated Iraq has been working to strengthen ties with the Sunni-led Arab world.
The visit by United Arab Emirates Foreign Minister Sheikh Abdullah bin Zayed Al Nahyan took place as the U.S. and other nations urge Arab countries to deploy ambassadors to Iraq, reopen embassies and forge closer relationships with the post-Saddam Hussein government.
Though the UAE will name an ambassador in coming days, according to Iraqi officials, it may take several months to send the envoy to Baghdad because of security and logistical concerns, a UAE source said.
UAE sources also said envoys are expected to discuss reopening an embassy in Baghdad, but the timeline was unclear.
The UAE mission in Iraq hasn't been active since one of its diplomat was kidnapped and released two years ago and two Iraqis working for the mission were killed.
Al Nahyan discussed bilateral relations with Prime Minister Nuri al-Maliki and met with President Jalal Talabani, Foreign Minister Hoshyar Zebari and Parliament Speaker Mahmoud al-Mashhadani. The Iraqi government said Al Nahyan delivered an official invitation to al-Maliki to visit the UAE.
The one-day visit is the first to Iraq by a Gulf Cooperation Council foreign minister since the 2003 U.S.-led invasion, the Iraqi government said. The council also includes Bahrain, Kuwait, Oman, Qatar and Saudi Arabia.
Since Egypt's ambassador Dr. Ihab al-Sherif was abducted and slain in July 2005, no ambassador from an Arab country has been stationed permanently in Iraq.
Al Qaeda claimed responsibility for the assassination, saying it had killed al-Sherif -- "praise be to God" -- because of Egypt's foreign policies and its alliances with the U.S. and Israel.
Only Syria and Jordan have sent their foreign ministers to visit Iraq in the post-Hussein era. The Arab League's secretary-general also has visited.
Sunni-Shiite rivalries -- not only in Iraq, but throughout the Muslim world -- have been a factor in the torpid pace of diplomatic relations between Iraq and the Arab world.
Iraq has a mixed population, mostly Arab with some Kurds and Turkmens. The Muslim population is largely Shiite with a Sunni minority. Most Arab countries are Sunni ruled.
Iraq's government seeks stronger ties to all countries in the region and is forging a relationship with neighboring Iran, a non-Arab Shiite nation. It's a partnership that concerns the U.S. and Arab nations wary of Iran's Islamic republic government.
Debt relief is a major issue for Iraq, and the West has urged nations to forgive billions in Iraqi debt -- almost $5 billion of which is due to UAE, according to UAE officials.
U.S. Deputy Treasury Secretary Robert Kimmitt said last week at the International Compact with Iraq, held in Stockholm, Sweden, that Arab states hold a "significant majority" of the Iraqi debt.
"What is going on right now are technical discussions between the Iraqis and each of the Gulf Arab states, including the Saudis, on exactly what the amount of the debt is, whether that would include interest, what are the documents that would support the actual claim," he said.
Swedish Foreign Minister Carl Bildt said before the meeting that Iraq's Sunni Arab neighbors must pitch in on the Iraqi reconstruction effort.
Key to progress in Iraq, Bildt said, is "that the Sunni parts of the society move more clearly into the government structures."
"And that is going to be dependent, to some extent, I think, on the attitude that is taken by countries like Saudi Arabia, by Kuwait, by Jordan and others who have a stake in this particular process," Bildt told reporters, adding that the United States should also foster bilateral relations with such countries.
E-mail to a friend

CNN's Caroline Faraj and Mohammed Tawfeeq contributed to this report.
All About United Arab Emirates • Iraq