(CNN) -- Iran's United Nations delegation accused the Security Council of "emboldening" an Israeli official into threatening to attack Iran over its nuclear weapons development program, according to Iran's state-run media.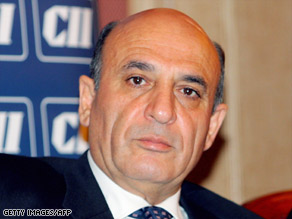 Israeli Deputy Prime Minister Shaul Mofaz is the country's main liaison with the United States.
"The Israeli regime has been emboldened due to carelessness and silence of the Security Council," the delegation said in a letter to U.N. Secretary-General Ban Ki-moon and the U.N. Security Council, the Islamic Republic News Agency reported Saturday.
The letter was a reaction to a story printed Friday by Israel's largest mass-circulation daily, which quotes Deputy Prime Minister Shaul Mofaz threatening to attack Iran if it continues to develop nuclear weapons.
"The window of opportunity has closed. The sanctions are not effective," said Mofaz, who was born in Iran in 1948. "There will be no alternative but to attack Iran in order to stop the Iranian nuclear program."
The tough rhetoric, published in Yediot Ahronot, has political resonance in Israel amid talk that Mofaz has begun jockeying to replace embattled Prime Minister Ehud Olmert as the ruling Kadima Party's leader and prime minister.
At least one Cabinet member, Defense Minister Ehud Barak, has called for Olmert to step down because of allegations arising from a corruption inquiry.
Mofaz, Israel's transport and road safety minister, is the main Israeli liaison with the United States on strategic issues, and his views on security have great import. He is a former defense minister, a former armed forces chief and a member of Israel's Security Cabinet.
Iran insists that its nuclear program is for peaceful purposes, namely to create energy. In the past, it has described interactions with the U.N.'s nuclear watchdog as positive.
But the most recent report by International Atomic Energy Agency hints at frustrations from the agency's investigators, who say Iran is withholding critical information that could determine whether it is trying to make nuclear weapons.
Aside from Israel, Iran's nuclear program has spurred concerns in the United States and much of the West. After the IAEA released a similar report in March scrutinizing the program, the U.N. Security Council voted to impose new sanctions on Iran over its nuclear program.
Shortly after last month's report was released, Ali Larijani, formerly Iran's top nuclear negotiator, was overwhelmingly elected as parliament speaker -- and immediately warned that Tehran may reconsider cooperating with the IAEA.
Meanwhile, Iran's ambassador to France, Ali Ahani, said talks are the best way to approach the nuclear program, IRNA reported.
"The only solution to Iran's nuclear case is negotiation and confidence building," Ahani told former French envoys at Sorbonne University in Paris.
"We suspended our enrichment activities for two years voluntarily. We even accepted additional protocol, which authorized IAEA to visit Iran's nuclear facilities whenever they wanted," he added, according to IRNA.
"Iran is not seeking an atomic weapon, but it is following its rights as specified in the (Nuclear) Non-Proliferation Treaty," he said.
E-mail to a friend

All About United Nations Security Council • Shaul Mofaz • International Atomic Energy Agency • Iran