JERUSALEM (CNN) -- An Israeli airstrike in Gaza killed three Palestinian militants Tuesday following a mortar attack on Israel, according to Israeli army and Hamas sources.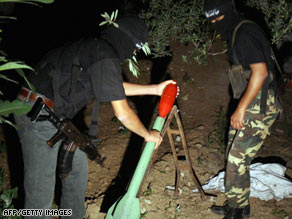 Palestinian militants take up positions early Tuesday east of Gaza City.
No casualties were reported when about 20 mortars landed in Israel.
An Israeli army spokesman said the airstrike east of Gaza City targeted the mortar-launching site. Three members of Hamas' militant wing, Izzedine al Qassam, were killed in the strike, Hamas sources said.
The violence came as Israeli Prime Minister Ehud Olmert met in Jerusalem with top officials, including Foreign Minister Tzipi Livni and Defense Minister Ehud Barak, on how to deal with Hamas-controlled Gaza.
The talks centered on whether to pursue a truce with Hamas leaders in Gaza or to broaden Israel's military operations there, according to the Israeli newspaper Haaretz.
Gaza militants are still holding an Israeli soldier kidnapped two years ago. Cpl. Gilad Shalit recently wrote a letter to his parents pleading for his release, his father said.
Militants in Gaza have launched more than 2,300 mortars and rockets since the start of 2008; 2,000 were launched in all of 2007, according to Israeli military figures.
Three Israelis have been killed in rocket and mortar strikes in the past month.
The Israeli military responds to the attacks by carrying out airstrikes and ground operations in Gaza that target militants, but many times they lead to civilian casualties, further inflaming the Palestinian leadership.
Gaza is controlled by Hamas, which seized the Palestinian territory last year after routing Palestinian security agencies under the control of Palestinian Authority President Mahmoud Abbas and his Fatah movement.
Hamas refuses to recognize Israel's right to exist and is considered a terrorist organization by the United States, the European Union and Israel.
The ouster forced Abbas to dissolve the Fatah-Hamas unity government, but Fatah still controls the West Bank.
Representatives from the rival Palestinian factions met in Senegal this week for talks aimed at restoring the yearlong political and territorial split.
Last week, Abbas called for "national unity" talks with Hamas with the goal of producing new elections for the Palestinians, who elected a Hamas-led Palestinian Authority government in a U.S.-backed vote in 2006.
Meanwhile, Abbas' Western-backed government is working toward a peace agreement with Israel.
The Bush administration has said it wants the two sides to reach an agreement by the end of the year.
E-mail to a friend

CNN's Shira Medding contributed to this report.
All About Gaza • Israel • Ehud Olmert