JERUSALEM (CNN) -- Israel has been making small steps toward reconciling with its neighbors -- including this week's planned truce with Gaza's Hamas leaders -- raising questions about whether those steps could lead to a broader peace deal.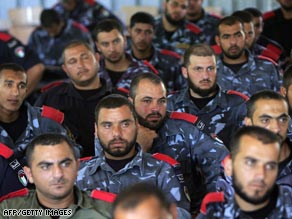 Palestinian Hamas security officers attend a lecture in Gaza City last week.
Last month, Israel confirmed it had been indirectly negotiating a deal with Syria for more than a year. And on Wednesday it announced it hoped to hold similar peace talks with Lebanon.
The Jewish state is under pressure from the United States to reach an agreement outlining a future Palestinian state by the end of the year.
There is little hope of that happening, particularly with only six months left in the year. But Israel could be setting the stage for a more positive outcome with its indirect talks with Hamas.
One Middle East analyst called the truce -- which is scheduled to take effect on Thursday morning -- "a major climbdown for Hamas."
"Hamas folks in Gaza have always been overbidding the (moderate) Palestinian, PLO (Palestinian Liberation Organization), PA (Palestinian Authority) factions for not resisting, for accommodating Israel," Ziad Asali, who heads the American Task Force on Palestine, told CNN.
"Now Hamas comes to terms very quickly over a one-year period with Israel and will have to stop all that resistance work."
He noted that Hamas must not only control its own militant group under the Gaza cease-fire agreement, but guarantee that other Islamic militant forces in Gaza stop firing on Israel, as well.
Asali said that "will in fact strengthen the position of the PA and PLO factions who will be negotiating on behalf of the Palestinians."
Another analyst said the truce "is a start," but much more needs to be done.
"The real question is whether the cease-fire will hold, how long it will hold, and whether it can be used to build upon and improve the situation and crisis," said Haim Malka of the Center for Strategic and International Studies.
Israel has discussed a future Palestinian state only with the more moderate Palestinian Authority leadership, led by President Mahmoud Abbas and based in the West Bank.
Hamas -- a Palestinian militant group that controls Gaza, where about 37 percent of Palestinians live -- has been barred from the negotiations because of its refusal to recognize Israel's right to exist and renounce terrorism.
But by agreeing to deal with Hamas through Egyptian mediators, Israel could be acknowledging that its complete exclusion of Hamas was not working.
After all, the Palestinian people overwhelmingly voted for a Hamas-led government during a U.S.-backed vote in 2006. A year later, Abbas dissolved the government after Hamas seized control of Gaza, which had long been under the control of Palestinian forces loyal to Abbas' Fatah Party.
Abbas has also taken recent steps toward repairing the political split with Hamas. Earlier this month, Abbas called for "national unity" talks with Hamas with the goal of producing new elections for the Palestinians.
This week, Abbas sent his aides to Gaza -- the first time a Fatah delegation has been to Gaza since last year's Hamas "coup."
Israel has stressed that this week's cease-fire agreement is one step in a larger process that must include the release of army Cpl. Gilad Shalit, who has been held hostage by militants in Gaza for two years.
If Shalit is returned, Israel will start to lift its economic blockade on Gaza by reopening its border crossings.
A broader Israeli-Palestinian peace deal could also be bolstered if Israel resolves its long-standing disputes with Syria and Lebanon. Israel began its indirect talks with Syria more than a year ago, under the mediation of Turkey, and will hold two more rounds of talks in July.
While its grievances with Syria and Lebanon are centered around the disputed lands of the Golan Heights and Shebaa Farms, which Israel occupies, the problems run much deeper and the consequences of an agreement could have wider implications.
The Syrian-backed Hezbollah militant group -- which operates out of Lebanon -- is still holding two Israeli soldiers it captured in July 2006 after an attack along Israel's border with Lebanon.
Beyond just pulling out of the disputed lands, Israel could also be trying to weaken Hezbollah by dealing with the pro-Western Lebanese government.
Hezbollah has long argued that it has a right to bear arms because it is a resistance group against Israeli occupation. If Israel no longer occupies Shebaa Farms, Hezbollah could have a harder time making that argument.
Hezbollah gained more political power in Lebanon through an agreement reached by Qatari mediators, which helped end last month's fighting in Lebanon that threatened to erupt into civil war.
But Malka noted that previous attempts by Israel to influence Lebanon's internal policies have not been successful.
"For decades Israel has sought to reach a separate peace agreement with Lebanon which has always failed, and it's wishful thinking to expect that such a deal could be reached at a time when Hezbollah has become the undisputed power in Lebanon," said Malka, who is the deputy director of CSIS' Middle East program.
Meanwhile, any deal that Israel makes with Syria could have implications for Iran's role in the Middle East, according to former U.S. Middle East envoy Dennis Ross.
"The Syrians and the Iranians have a marriage of convenience," Ross told CNN. "They don't have a marriage of ideology. The question is whether or not the Syrians are prepared to move away from the relationship they've had, not only with Iran, but with Hezbollah and with Hamas."
Syria, he said, could hold the key to a broader strategic shift if it decides to reach a deal with Israel. But Syria would probably want economic benefits and political acceptability from the United States in return, he said.
"They in a sense want to be reintegrated into the area, but I don't think they're going to do that simply or easily," Ross said.
He noted that in past negotiations, Syria has sided with Iran, Hezbollah and Hamas in arguing an alternative "narrative" that a broader Middle East peace initiative would not have to include a Palestinian state.
"If they decide to opt out," Ross said, the leaders of Syria "are sending a message (to Iran, Hezbollah and Hamas) that they don't think that narrative is in fact the inevitable one, and that maybe peace could be the inevitable one.
"From that standpoint, it's in everybody's interest to see, can you win the Syrians away or not?"
Malka of the Center for Strategic and International Studies warned that "expectations should be realistic" with any Israeli-Syrian agreement.
"It is unrealistic to expect a Syrian-Israeli agreement would produce a Syrian strategic break with Iran," he said. "But I think a redefinition of those relations (between Syria and Iran) might be possible."
Malka noted the absence of any U.S. mediation in any of the current talks going on in the Middle East.
"I think the United States' ability to influence events (in the Middle East) has diminished significantly, and sadly the United States has been sidelined in all of the most important political discussions going on at the moment," said Malka.
"It's a failure of U.S. policy that the most critical developments in the region are happening without the direct input of the United States."
E-mail to a friend

CNN's Tricia Escobedo and Kevin Flower contributed to this report.